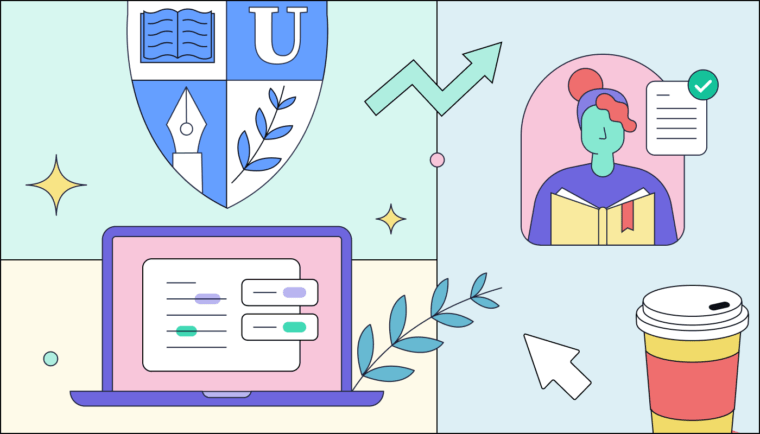 Expectations for communication skills are high for students entering college and even higher for graduating students transitioning to their careers. Following the shift to distance learning and hybrid work, effective written and cross-channel communication is more critical than ever. Higher-education institutions now have a deeper responsibility to teach students how to communicate effectively to help them succeed beyond graduation. Today's digital-first workplace demands authenticity, proficiency in different channels, and mastery of various technology and communication tools. Institutional support is crucial to ensure this opportunity doesn't become a disadvantage. Current students can rise to these challenges with guidance from educators.
Effective writing for everyone, anywhere
Drive academic success for students, faculty, and staff with Grammarly for Education
Help students create their personal brand through authentic communication
Effectively expressing one's unique value is a difficult skill–in writing, it can be even more challenging. That said, it's a significant competitive advantage in the job market. Human resources departments and recruiters are looking for more than a résumé and cover letter. They're evaluating how students present themselves across channels such as public social media, email exchanges, and live interviews (which are increasingly held through videoconferencing). 
According to LinkedIn, the ability to communicate a personal brand built on one's unique background and values will set students apart as they enter the global workforce. Many of today's college students have an advantage here: They've been using social media platforms to communicate their thoughts and opinions for years. 
However, educators and administrators must remember that not all students fit into this "digital native" paradigm, and some may struggle to express themselves nonverbally. 
Higher education is an ideal place for students of all backgrounds to learn to communicate authentically and develop a career-ready personal brand. According to the Harvard Business Review, authentic communication can build trust and confidence but can also have the opposite effect if potential employers or colleagues consider the message or tone inappropriate.
Mastering those modulations in tone and message takes practice. Educators can help students build their communication confidence, but it's important not to do so in a punitive fashion. Heavy criticism or negative reactions can destroy student confidence; students shouldn't be dismissed or disrespected because of age and lack of experience. To encourage authentic communication, balance the rigor of academic assignments with encouragement and positive reinforcement. It's important to acknowledge students' contributions to the classroom dynamic and culture when they share their personal experiences, even if aspects of the message need polish and improvement.
Strengthen student experience in cross-channel communication 
Whether in a professional, educational, or personal setting, today's communication happens in many different venues: in person, over email, via messaging platforms, or across social media channels. In higher education, students gain valuable real-world training through formal assignments, emails with instructors and classmates, and threads in course management platforms, to name a few. 
In other words, educators and institutions are well poised to prepare students for effective and deliberate cross-channel communication. Different platforms and situations require different voice and tone treatments. 
There are opportunities to teach undergraduates the necessary etiquette across platforms and various types of communication. For instance, what will be expected in a professional email? How do the expectations change in a more informal instant-messaging environment? Educators can model these delicate adjustments to voice, tone, and style in the context of their curriculum.
Offer the right tools to ease the workforce transition
Cross-channel communication and personal branding are among the most valuable skills for students entering the professional world. Educators should support this skill-building by fitting opportunities into their curriculum and making communication improvement tools available for all students to reach career-ready proficiency.
A tool like Grammarly for Education prepares students to write with the level of clarity and professionalism that employers expect post-graduation. Grammarly offers 24/7 writing support to help students strike the right tone, submit better work, and become more effective communicators. Beyond that, Grammarly benefits the entire institution by improving communication among students, faculty, and staff. Contact our team to see how Grammarly for Education can help your organization meet its goals.