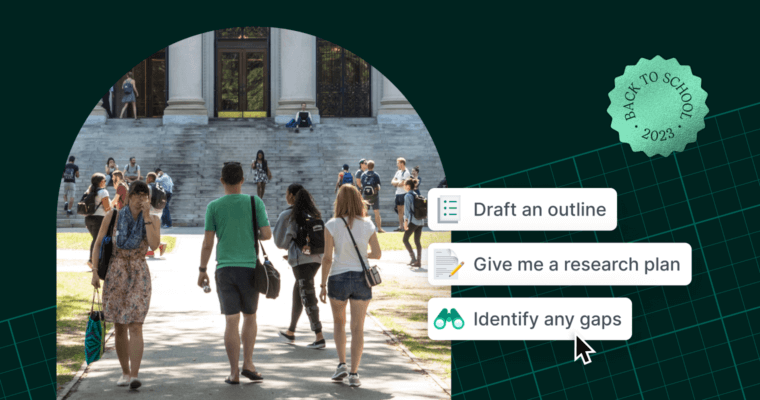 We're at the end of August, and most school districts, colleges, and universities have already begun a new academic year. For higher education in particular, the start of the 2023–24 school year feels different. In the midst of myriad challenges for the sector, including declining enrollment, admissions policy overhauls, and declining public perception, institutions enter the academic year grappling with what one of the most rapid technological advancements in decades means for learning: generative AI.
Level up your institution's writing support
See how Grammarly for Education can help improve student outcomes
Ever since the technology was introduced to the mass market in November 2022, academic institutions have been scrambling to know how to approach generative AI in the classroom. Some institutions initially took a conservative approach, choosing to ban tools like ChatGPT outright. Others took more open stances, choosing to open up access to generative tools for learning and provide as much guidance on their effective use as possible. However, what is abundantly clear across both K–12 and higher education is that institutions are still struggling to adopt consistent policies that not only outline acceptable use of this transformative technology but also provide tangible, quality implementation guidance to faculty, staff, and students. 
It's easy to understand why: Generative capabilities, particularly features that compose long-form text, fundamentally disrupt decades of pedagogical reliance on writing as a form of assessing student understanding and depth of knowledge. For some courses and departments, this sea change presents a clear threat to the way they have traditionally operated. The change management required to help faculty adapt to new ways of assessment is not an easy task that happens overnight. Furthermore, the mere presence of widely available technology that can compose text without clear and proper citations does open the floodgates to potential plagiarism, if used ineffectively by students. However, particularly for certain use cases, generative AI offered immediate benefits that continue to outweigh the potential challenges, such as providing all students with an on-demand thought partner for their own ideas and time-saving assistive features that can enhance the quality and creativity of finished projects. Taken together, the spectrum of questions and opportunities that generative AI introduced in very short order to the education sector in 2022–23 made it immensely challenging for institutions to quickly institute blanket policies that would give faculty and students clear guidance on why and how to use these tools effectively on a day-to-day basis. 
This back-to-school season offers a golden opportunity for institutions to make more proactive decisions about appropriate generative AI use for both staff and students. The longer institutions wait to institute practical, nuanced guidance, the more risk they run of this technology being used ineffectively by students, or the technology being banned by individual professors who see it only as a threat instead of as an opportunity. Along with effective use policies, institutions need to be proactive and thoughtful about the tools they procure for students and what they allow/do not allow students to use on their own. Institutions must find the right balance between bans and zero oversight. With the right considerations and tech stack cultivation, institutions can encourage student generative AI use in ways that optimize learning and prepare them for the AI-connected workforce. 
At Grammarly, we're adding generative capabilities that keep learning and equitable access at the center. While generative technologies are new to the mass market, the technology underpinning them is not. Since our founding in 2009 as a tool meant for students, particularly those for whom English was not their native language, to improve their written communication, we've placed the trust and safety of our users and the responsible use of our tool at the forefront of everything we do. Today, that extends to how we are evolving Grammarly's AI-enabled communication assistance to augment rather than replace student creative and critical thinking. 
As of August 29, we've launched the following features that are now available to all K–12 and higher ed institutions who have purchased Grammarly for Education for their faculty and students: 
1

 Institutional and group-level opt-in for gen AI features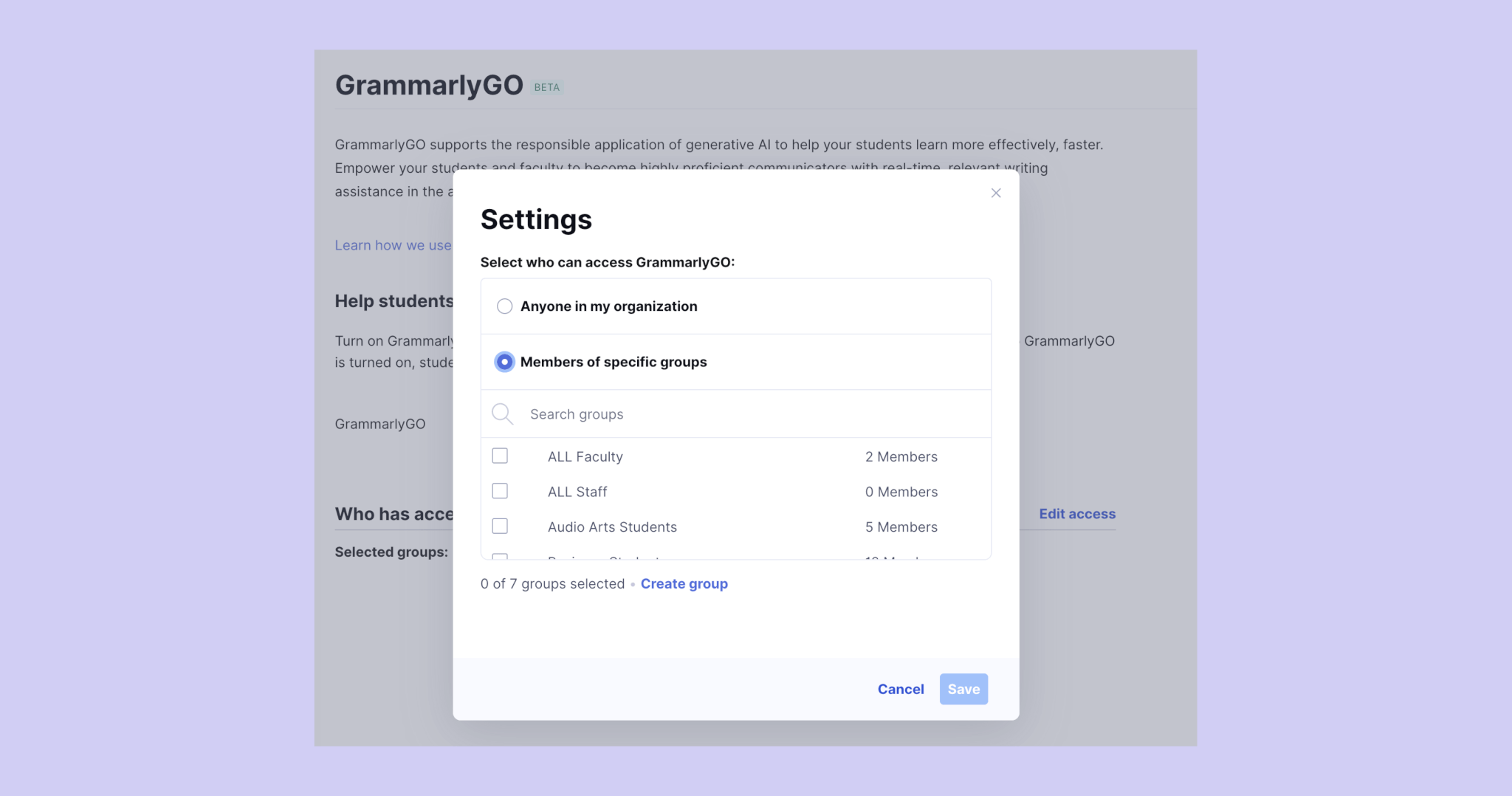 While we believe that exposure to responsible, effective generative AI features is crucial to prepare students for the future of work, we recognize that access to these features should remain in the control of institutions. Grammarly's generative AI features can always be turned on or off by institutional admins, and we've added the ability for admins to enable generative capabilities for specific user groups in the Grammarly admin panel.
2

 Academic prompts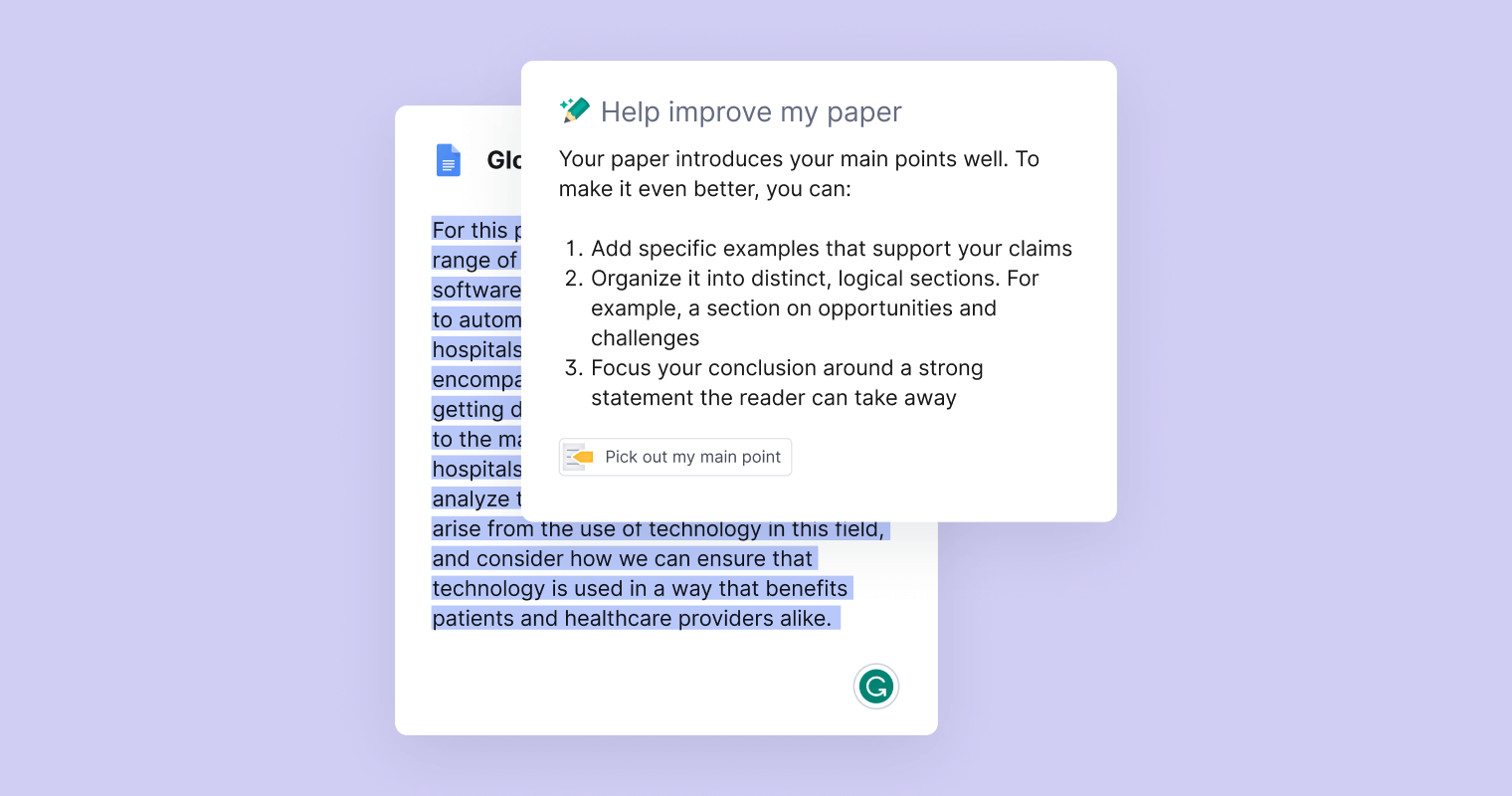 Fear of the blank page is a common feeling for any writer. Particularly for students, just getting started on a longer piece of writing can be the hardest part. Grammarly now offers student-focused prompts to help students brainstorm more quickly and get into the groove of productive writing. When opening GrammarlyGO's sidebar in any writing surface, students will see ready-made prompts such as, "Brainstorm topics for my assignment" and, "Give me a research plan" that give them direction and help them progress through the writing process. Students can also use Grammarly's academic prompts during the editing phase, choosing from a series of prompts that will help them improve their phrasing, tone, and brevity. All faculty and students who are on a Grammarly for Education plan provided by their institution will get 1,000 generative AI prompts per month, compared to 100 for the free individual version. 
3

 AI guideline reminders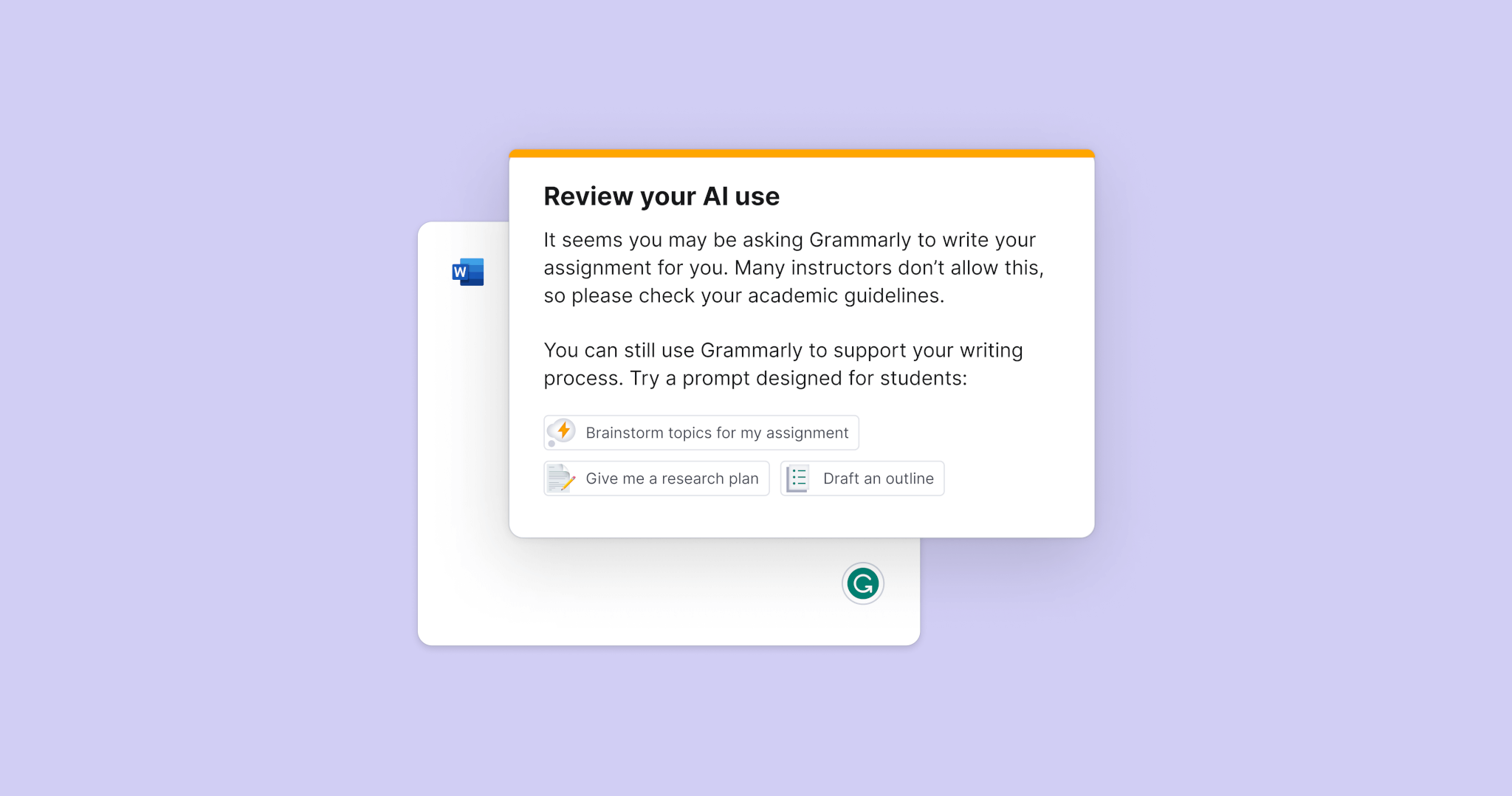 In the spirit of developing generative capabilities that support and enhance, rather than replace learning, Grammarly has instituted AI guideline reminders anytime a student prompts Grammarly to compose a significant amount of text for them. For example, if a student prompts Grammarly to "write me an introductory paragraph" for a given assignment, Grammarly will respond with a reminder to check their specific course guidelines and redirect them to brainstorming prompts geared toward helping them get started on their intro. 
4

 Output explanations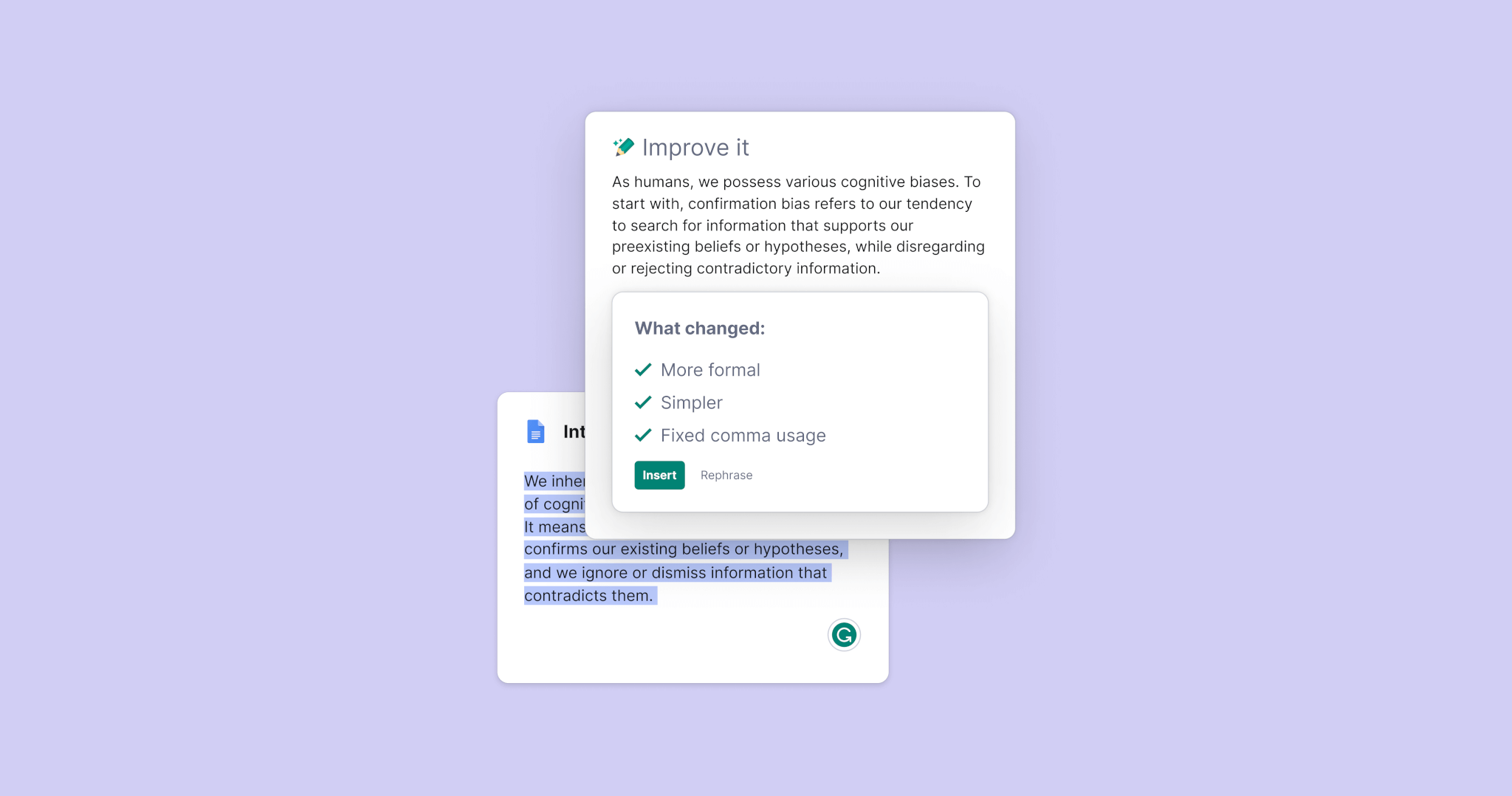 When students prompt Grammarly to change their own writing using the academic prompts referenced above, Grammarly will include explanations of what changed and why, helping students learn how to improve their writing and align their style to their intended tone and voice. 
5

 Citation support and transparent AI use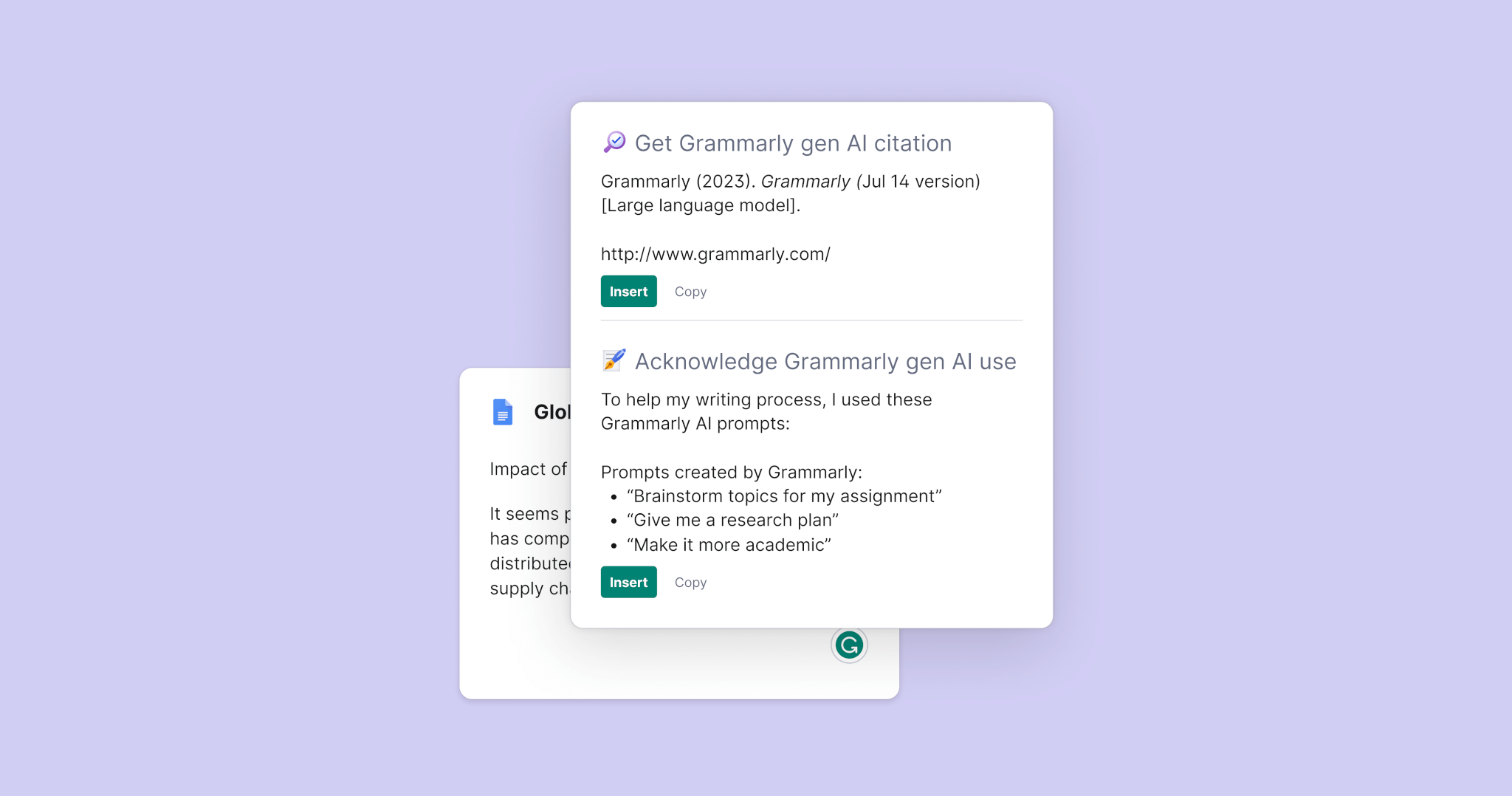 Grammarly has helped students accurately cite their research for years. When generative AI first launched, one of the biggest issues was the lack of transparency for when and how students were using it in their writing, if at all. Now, students can easily acknowledge when and how they've used Grammarly's generative AI assistance in their writing by clicking the button, "Acknowledge Grammarly gen AI use." Doing so will prompt Grammarly to generate text citing how Grammarly's AI was used in that full piece of writing, making it easier for students to be transparent with their instructors in their gen AI use. And, later this fall, students will be able to grab auto-citations from both Grammarly and ChatGPT whenever they use either LLM in their writing. 
The generative AI era is here. If we collectively want future graduates to be well prepared for that era, institutions must embrace gen AI technology in responsible, effective ways that enhance critical and creative thinking. The features we are launching above are merely a starting point for how Grammarly is seeking to build a comprehensive, trustworthy, and equitable solution that all students and faculty can use to communicate more effectively in any context. We would love for your institution to join us on our journey to make generative AI deliver on its potential to transform learning in positive ways.
Reach out to our team to find out how Grammarly for Education can help your institution with its AI implementation, and check out our recent webinar to learn more about our new generative AI features.