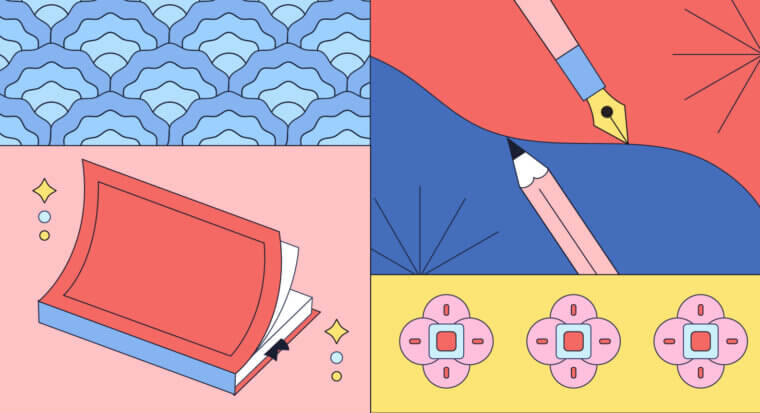 Asian American Pacific Islander authors have created an exhilarating modern literary canon, penning literature at once wholly American and proudly representative of their many strands of heritage. These novels, poems, essays, articles, memoirs, and nonfiction books are part of a pan-Asian and Pacific Islander literary movement, while also being representative of authors' individual experiences as writers and members of their respective communities. 
These authors have expanded the scope of Asian American literature through their writing. Learn about their work below, from a lighthearted young adult series to a Pulitzer Prize–winning espionage tale set in South Vietnam to a children's book about struggling to belong to a satirical novel about being cast as the "Generic Asian Man" in Hollywood. 
Erin Entrada Kelly (1977–)
Erin Entrada Kelly's children's books weave Filipino American heritage and Asian American struggles into their themes. "Like Apple [the protagonist in her book Blackbird Fly], I was the only Asian in my school," Kelly writes on her website. "I was embarrassed of my Filipino heritage and resented my mother. I was teased and bullied and even hid out in the library for a while (just like Apple)." 
Kelly received the 2016 Golden Kite Honor Award for this book that follows the life of a Beatles-loving twelve-year-old named Apple. But she's most celebrated as the author of Hello, Universe, a novel told from the points-of-view of four children after one of them gets stuck in a well. The story incorporates Filipino folktales. Lauded for its themes of friendship, self-acceptance, teamwork, and courage, the book won the 2018 Newbery Medal and is being adapted by Netflix.
Atul Gawande (1965–)
Inspiring surgeon Atul Gawande is a staff writer at The New Yorker and author of several books: Complications: A Surgeon's Notes on an Imperfect Science, Better: A Surgeon's Notes on Performance, The Checklist Manifesto, and Being Mortal: Medicine and What Matters in the End. 
Gawande explores heavy topics like hospice care and death, as well as the imperfect science that is medicine. His #1 New York Times bestseller The Checklist Manifesto offers anecdotal evidence of times when the simple checklist has saved lives and improved medical outcomes. Gawande also founded CIC Health, which works to scale up COVID-19 testing and vaccine distribution nationally. He is one of the members of President Joseph R. Biden's COVID-19 Advisory Board.
Kiana Davenport (1940–)
Native Hawaiian author Kiana Davenport is beloved for her novel Shark Dialogues, a family saga detailing the lives of seven Hawaiian generations. Weaving Hawaiian history from the eighteenth century to modern times into her story, Davenport focuses on the women of the family and their captivating adventures. Invoking her own family history, Davenport wrote The Spy Lover, about a Chinese immigrant soldier during the US Civil War. 
Davenport is a Fiction Fellow at the Bunting Institute at Harvard-Radcliffe. She has also won the Eliot Cades Award for Literature and a writing fellowship from the National Endowment for the Arts. Her short stories have earned several O. Henry Awards, Pushcart Prizes, and the Best American Short Story Award, 2000.
Sia Figiel (1967–)
Celebrated Samoan poet and novelist Sia Figiel is best known for her Commonwealth Writers' Prize–winning novel Where We Once Belonged, a bildungsroman about thirteen-year-old Alofa, a Samoan girl learning to navigate the world around her and struggling with the social mores of adulthood. 
Using the traditional Samoan storytelling form of su'ifefiloi to rebut the Western lens on Samoa perpetuated by Western anthropologist Margaret Mead and Western artist Paul Gauguin, Figiel masterfully depicts a young Samoan woman's story. Also known as a performance poet, Figiel has performed at literary festivals and collaborated to record with poet and scholar Teresia Teaiwa. Her other books include novels The Girl in the Moon Circle, They Who Do Not Grieve, and poetry collection To a Young Artist in Contemplation.
Gene Luen Yang (1973–)
Gene Luen Yang's graphic novel American Born Chinese is a complex collision of three storylines, including one of a Chinese American boy named Jin Wang, the Chinese folk tale of the Monkey King, and a stereotypical, racist depiction of a Chinese boy. It was the first graphic novel to be nominated for a National Book Award and the first graphic novel to win the American Library Association's Printz Award. 
Lang's two-volume graphic novel Boxers & Saints, about the Boxer Rebellion, was nominated for a National Book Award and won the L.A. Times Book Prize. He has worked on other comics, including Avatar: The Last Airbender and Superman. He teaches creative writing at Hamline University's MFA program and is the Library of Congress's National Ambassador for Young People's Literature.
Hanya Yanagihara (1974–)
Acclaimed novelist and editor Hanya Yanagihara is most known for her second novel, A Little Life. Yanagihara grew up in Hawaii as a fourth-generation Hawaiian and the daughter of a Seoul-born mother and Japanese father. A Little Life is the story of four male friends finding their way in New York together. The striking novel is an emotional treatise on the tragic and heartrending effects of child sexual abuse, as well as the power—and shortcomings—of friendship to combat it. Yanagihara's novel won the 2015 Kirkus Prize in Fiction, was a finalist for the National Book Award, and was shortlisted for the Man Booker Prize and Andrew Carnegie Medal for Excellence in Fiction. 
Yanagihara has worked as an editor at Conde Nast Traveler and is currently the editor-in-chief of T: The New York Times Style Magazine.
Ocean Vuong (1988–)
Incisive poet and MacArthur "Genius Grant" Fellowship recipient Ocean Vuong is the author of an epistolary novel entitled On Earth We're Briefly Gorgeous, as well as a collection of poems called Night Sky With Exit Wounds. 
Vuong, who is Vietnamese American, was born in Ho Chi Minh City and moved to a refugee camp in the Philippines at age two before arriving in the United States. His body of work, including On Earth We're Briefly Gorgeous and his New Yorker essay "A Letter to My Mother That She Will Never Read," grapples with the effects of the Vietnam War, specifically his relationship with his abusive, traumatized refugee mother. Through distinctly unique lenses, his work reimagines important historic events, such as Operation Frequent Wind, the evacuation of American citizens and Vietnamese refugees from South Vietnam on April 29, 1975.  
Min Jin Lee (1968–)
South Korea-born Min Jin Lee, whose family immigrated to Queens, New York in 1976 when she was seven years old, is known for her novel Pachinko, an epic family saga of four generations of Koreans. It was a finalist for the National Book Award for Fiction and was named as one of the 10 Best Books of 2017 by The New York Times. Written in Tokyo when Lee lived there, the novel depicts the struggles of Koreans living in Japan, following matriarch Sunja as she immigrates to Japan and raises her family there. 
Lee's first novel, Free Food for Millionaires, follows a young Korean American woman named Casey Han navigating her New York life as the daughter of immigrants. It is currently being adapted by Netflix, with acclaimed Taiwanese American director and showrunner Alan Yang at the helm. 
Jenny Han (1980–)
Author of the smash young adult series To All the Boys I Loved, Brooklyn-based Jenny Han is a Korean American author who has found pop culture success. Detailing the love life of high schooler Lara Jean Song Covey, the To All the Boys series is a whimsical, humorous look at what happens when Lara's sister mails out five letters Lara had secretly written—but had never intended to send—to Lara's past crushes. Han executive-produced all three Netflix films in the trilogy, which starred Asian American actor Lana Condor. 
Han tends to write in trilogies, and is also known for her YA series The Summer I Turned Pretty, which details the summer romances of Isabel "Belly" Conklin. Han is a former librarian and earned her MFA in creative writing at the New School in New York City. 
Viet Thanh Nguyen (1971–)
Vietnamese American author Viet Thanh Nguyen wrote the 2016 Pulitzer Prize-winning The Sympathizer, a novel portraying espionage and immigration. It depicts the life of a North Vietnamese spy undercover in the South Vietnamese army who eventually moves to Los Angeles. The novel also won the First Novel Prize from the Center for Fiction and the Carnegie Medal for Excellence in Fiction from the American Library Association.
Born in Vietnam, Nguyen and his North Vietnamese parents were refugees who immigrated to a Pennsylvania refugee camp after the fall of Saigon. His follow-up novel, The Committed, was released in 2021, and he also wrote a nonfiction book to complement The Sympathizer titled Nothing Ever Dies: Vietnam and the Memory of War. Nguyen edited an anthology of essays by refugee writers called The Displaced: Refugee Writers on Refugee Lives, and is the author of a treatise entitled Race and Resistance: Literature and Politics in Asian America. Nguyen is the Associate Professor of English and American Studies and Ethnicity at the University of Southern California and a critic-at-large for the Los Angeles Times. 
Jhumpa Lahiri (1967–)
Well-known for her collection of short stories titled Interpreter of Maladies and her novel The Namesake, Jhumpa Lahiri often depicts Indian American immigrants negotiating multiple cultural struggles in the United States. Lahiri excels at the short story, with her collection Interpreter of Maladies winning the Pulitzer Prize for Fiction and the PEN/Hemingway Award, and her collection Unaccustomed Earth winning the Frank O'Connor International Short Story Award. Her novel The Lowland was a finalist for the National Book Award for Fiction and the Man Booker Prize. Her novel The Namesake, inspired by her struggle with her name and identity, was adapted into a feature-length film. 
Lahiri lived in Rome, where she edited The Penguin Book of Italian Short Stories and published two essay collections and a novel in Italian, Dove mi trovo, which Lahiri later translated into English with the title Whereabouts. She received the National Humanities Medal in 2014 and was named the director of Princeton's Program in Creative Writing in 2019.
Alexander Chee (1967–)
Reading Alexander Chee can feel otherworldly or autobiographical, depending on the book. His novel The Queen of the Night delves into the world of a nineteenth-century Parisian opera star, while his novel Edinburgh portrays a Korean American boy who is molested by his choir director. Chee has spoken of his own sexual abuse and has written an essay collection entitled How To Write An Autobiographical Novel. 
Chee's work confronts many realities, including his own, in various genre formats. As an out gay Korean American author, an AIDS activist, and a writer who doesn't separate politics from literature, Chee is viewed as a bit of a maverick in the Korean American literary community. His essays and stories have also appeared in the magazines Guernica and Granta, and he has contributed to a number of queer anthologies, including Boys Like Us: Gay Writers Tell Their Coming Out Stories, His 3: Brilliant New Fiction by Gay Writers, and The "M" Word: Writers on Same-Sex Marriage. He attended the Iowa Writers' Workshop and is an associate professor of English and Creative Writing at Dartmouth College. 
Cathy Park Hong (1976–)
Poet and nonfiction writer Cathy Park Hong is a vital Korean American writer not only for her mixed-language writing but also for her landmark autobiography Minor Feelings: An Asian American Reckoning, which won the National Book Critics Circle Award for the best autobiography of 2020. The work investigates racism in the United States via the personal lens of the genre, along with history and statistics. 
Raised in Los Angeles, Hong also writes poetry that examines divided identities in American culture. Her books of poetry include Translating Mo'um, Dance Dance Revolution, and Engine Empire. Her topics span reimagining the dual lives of Chang and Eng in "Ontology of Chang and Eng, the Original Siamese Twins," and language and sexuality in "All the Aphrodisiacs." Hong teaches at Rutgers University and is the New Republic's poetry editor.
Ruth Ozeki (1956–)
Author, filmmaker, and ordained Soto Zen Buddhist priest Ruth Ozeki wrote the novel A Tale for the Time Being, which won the Los Angeles Times Book Prize and was shortlisted for the 2013 Man Booker Prize and the National Book Critics Circle Award. The innovative story chronicles a Japanese American writer named Ruth who, after the devastating 2011 Tōhoku earthquake and tsunami, finds a washed-up lunch box containing a diary by Nao, a sixteen-year-old Tokyo-based Japanese American girl. 
Ozeki is also the author of My Year of Meats, All Over Creation, and a personal nonfiction book, The Face: A Time Code. Ozeki, who grew up in New Haven, Connecticut, attended Smith College, studying English and Asian Studies, and was honored with a Japanese Ministry of Education Fellowship. Ozeki is the editor of the website Everyday Zen.
Weike Wang (birthdate unknown)
Weike Wang is a Chinese American author known for her novel Chemistry, the winner of the PEN/Hemingway Award. It's a darkly humorous story of a chemistry Ph.D. student struggling with simultaneous emotional, career, and romantic crises. Wang, who was born in Nanjing, China, emigrated with her family at age five and lived in Australia and Canada before moving to the United States. She studied at Harvard University for her undergraduate degree in chemistry and her doctorate in public health, which inspired her novel. 
In her novel, she explores not only the crisis of a nameless woman who's ambivalent about marriage but also the sexism within science, particularly the field of synthetic organic chemistry. Her work has appeared in The New Yorker, Boulevard, Gulf Coast, Glimmer Train, Alaska Quarterly Review, Ploughshares, Kenyon Review, and Redivider.
Charles Yu (1976–)
Charles Yu is an acclaimed novelist known for his books How to Live Safely in a Science Fictional Universe and Interior Chinatown, along with his short story collections Third Class Superhero and Sorry Please Thank You. Hilariously satirical novel Interior Chinatown earned him the 2020 National Book Award for fiction due to its telling of a "Generic Asian Man" constantly typecast in movies and television shows as "Background Oriental Male" with the erstwhile role as "Delivery Guy." Better yet, the entire book is literally written as a screenplay, with shorthand descriptions and dialogue centered on the page for the silver screen—a format Yu would know as a former writer and story editor for HBO's Westworld and a co-producer on FX's Legion. 
Yu, who studied molecular and cellular biology at the University of California, Berkeley while minoring in creative writing, also isn't afraid to approach science with absurdity. How to Live Safely in a Science Fiction Universe explores the life of a character named Charles Yu, a time machine mechanic searching for his father while falling in love with his time machine's computer. Yu has also written a wide variety of nonfiction essays, teleplays, and book reviews for The New York Times Book Review.