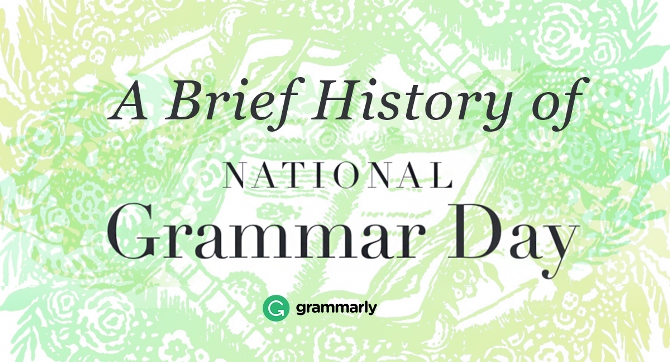 National Grammar Day, which is celebrated on March 4, was established in 2008 by Martha Brockenbrough, the author of Things That Make Us [Sic] and founder of the Society for the Promotion of Good Grammar (SPOGG). Former President George W. Bush sent a letter commemorating the day in its inaugural year. In an interview with Grammarly last year, Martha explained that she founded the day because she wanted to help her students with their grammar in a lively and positive way. As the National Grammar Day website states, "Language is something to be celebrated, and March 4 is the perfect day to do it. It's not only a date, it's an imperative: March forth on March 4 to speak well, write well, and help others do the same!"
Some people celebrate National Grammar Day with blog posts and lessons dedicated to the subject. John E. McIntyre, author of the column "You Don't Say" for the Baltimore Sun, gives advice on how to prepare for National Grammar Day: "Before you announce to the world which words you particularly dislike, take a moment to consider that the world is unlikely to be waiting breathlessly to hear." So, rather than taking to the comment boards to criticize other people's grammar, why not celebrate in the following ways?
Browse through past submissions of the worst grammar mistakes, like these from Grammarly and the Huffington Post
Take an online quiz to test your grammar
Learn grammar lessons by listening to March Forth: The Grammar Song
Read the SPOGG blog for some grammar laughs
Watch "Weird Al" Yankovic's "Word Crimes"
Set up a grammar police squad like the one at the University of West Florida, where students can call a grammar hotline or email their grammar-related questions to a team of experts
Buy a grammar geek shirt
Read a grammar haiku
At Grammarly, we treat every day like it's National Grammar Day by helping you to perfect your writing all year round.