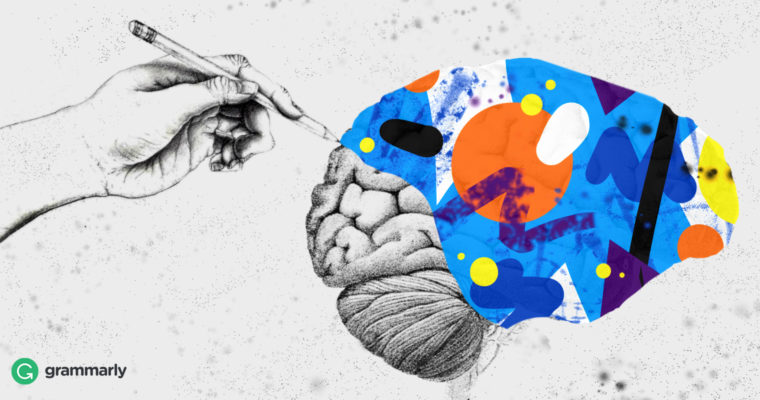 Writers of the world, unite! Creators of content are always on the lookout for more, well, content. Sometimes that means research, sometimes that means tips on building a business, and sometimes that just means looking at cool stuff and feeling inspired.
If you're a fiction writer, content marketer, journalist, designer, or other kind of content creator in search of suggestions specific to the type of writing you do, head on over to Grammarly's colossal list of tips, techniques, ideas, and sources for all your content creation needs (and maybe more). If you've exhausted that list and are already out for more—or on the flip side, if you're not into job-specific how-tos and would rather explore broader sources of inspiration—this is the list for you. Here, Grammarly has compiled cool sites about writing, reminders to keep reading, and creative sources with a human focus. There are also inspirations to tune into on a daily basis and sites to support you in writing specific genres of fiction. Whether you're looking for tips on a particular project or just want new sources of motivation (and maybe a giggle or two), there's something here for you.
Reading, Writing, and Watching
Goodreads If you're in the writing game, chances are you've heard that the most important thing you can do for your writing is reading. Goodreads lets you keep track of books you've read, find others like them, and read and write reviews (some bloggers use it as a gateway to lure readers to their own sites). Plus, there's a blog, news about and interviews with featured authors, and awards for books of the year. Whether you're looking for something to read, a place to write, or a list of titles that are already taken, Goodreads has mountains of material for you.
Subway Book Review Existing on Facebook, Twitter, Instagram, and online, SBR gives you black-and-white photos of subway riders holding their favorite reads, followed by each photo subject's words on why the book they're carrying is important, interesting, or generally worth a read. The creator takes shots of people with real, paper books only: she says of her subjects, "They tell me about their lives and they tell me secrets and they tell me all of these magical things. I don't think that a tablet or an iPhone can do that in the same way." The project combines human interest with book recommendations. What could be better?
Wordstuck If you think you've got a big vocabulary, you might get stuck on the words on this site. Wordstuck posts obscure words in English and other languages that are bound to level-up your lexicon, or at least provide fun trivia. Whether you have to cope with palinolia (English: obsessive repetition to the point of perfection) around your vocabulary or just want to impress your parea (Greek: group of friends), Wordstuck will have something for you. Plus, it offers great visuals to accompany each word.
The Writers' Helpers Not sure what to write? The Writers' Helpers provides daily prompt challenges and monthly contests to go along with each prompt. Some prompts are for fiction, some for nonfiction, and most can be spun however you desire. Whether you want to join the competition or are just looking for a cornucopia of new ideas, these helpers have something for every writer.
Humans of New York Begun as a photography project, expanded to include interviews with photography subjects, and now spun off into two books, Humans of New York aims to "create an exhaustive catalogue of the city's inhabitants." With often intimate portraits and quotes or stories about the people pictured, HONY has gained an enormous social media following. HONY's Facebook and Instagram started the phenomenon, but there are lots of copycat sites, from Humans of Bombay to Humans of Toronto. That's the power of making strangers seem a little less strange.
Inspirations of the Day
Pun of the day That just about puns it up.
Whether you like to use jokes in your writing or not, sometimes a good (bad) pun can provide the spark that lights your own creativity—or at least gives you a laugh (or an eye roll) to boost your mood and set you on your way.
Earthshots Photo of the Day What's more inspiring than beautiful photos of nature? Earthshots has got you covered every day of the year. A great writing prompt: pick a photo and describe it—or alternately, describe a scene that happens there. Or if that's more work than you're looking for, just look at the pictures. We promise, they're pretty.
National Geographic Another spot for shots of the day, plus explorations of nature, people, and unfamiliar corners of the Earth that are bound to make you learn something. Nothing like new knowledge to help you think outside the box.
Brainy Quote Whether you're into seeing a quote of the day or you're on the lookout for something specific, Brainy Quote has an enormous repository of quotations from famous folks around the world and throughout history. Search authors, browse pictures, and explore topics like love, politics, knowledge, fear, or friendship. Whether you're looking for something specific or need an inspirational boost, you're more likely to be overwhelmed by possibilities than come up short.
Word of the day Whether you want to expand your vocabulary, test your knowledge, or practice your craft by incorporating specific words into your writing, it's worth checking out Dictionary.com's word of the day (or alternately, the daily word picked by Merriam-Webster, Word Think, or other similar sites). Many also have email newsletters you can subscribe to, so there's no chance of skimping on your daily word.
Sites for Genre-Specific Writers
SF Site If you write science fiction or just have been bit by the sci-fi bug (sorry: body-invading alien), this is a great place for resources, reviews, news, interviews, and everything intergalactic. If you want more where that came from, the Gunn Center for the Study of Science Fiction lists lots of additional resources for sci-fi readers and writers, while Science Fiction and Fantasy Writers of America is a must-join organization for writing professionals in the genres.
Fantasy Writers You guessed it: this is a site for fantasy writers (and readers) to read and participate in forum discussions, find updates, read other people's stories (including ones by published authors), and explore resources to help the writing process. There's also a monthly writing challenge. You have to sign up to see stories others have submitted, but if you want to find a community of fellow fantasy writers, it's worth your time. To see more fantasy sites, check out this list.
Kidlit If you write for children or young adults, a site that labels itself as being about how to write and publish children's books will be a good pitstop. The site is regularly updated with general blog posts, and has sections on the ins and outs of publishing, revision suggestions for books targeted to different ages, and general advice.
Writing Romance This list of resources is compiled by Writing World, a site with tips about the career and practice of writing professionally. The section on romance has guides on the basics of romance, characters, and plot, as well as specific posts on topics ranging from how to craft romantic dialogue and emotional scenes to details like humor, suspense, avoiding cliché, and picking the right title. Plenty to fall in love with here.
Writing the Mystery Also put together by Writing World, this list compiles resources for researching and writing mystery and crime novels. If you're planning to write in this genre, you probably need to brush up on your forensics. Beyond the researching side of writing, there are also tips on the right kind of dialogue to match your plot, creating a crime scene, and giving your killer a motive. With these resources, your mystery stories will be dead-on.
There you have it: ways to keep reading and writing, inspirational tidbits, and genre-specific sources to keep you going. For more sources on careers in writing and creativity in general, check out our list of inspirational online content.
The one problem with all this cool content: with so much out there to pay attention to, you'll have to make sure you make time to create your own, too.