Ensuring communication quality and consistency among remote, hybrid, and cross-functional teams (all interacting with customers and each other across various touchpoints) is no small challenge. Add the need for a nuanced, situational tone that consistently aligns with your brand tone of voice, and it's enough to keep even the most seasoned brand professional up at night. 
In fact, new research from Grammarly and The Harris Poll suggests business leaders and knowledge workers on every team may be losing sleep over communication challenges like striking the right tone for your brand and the moment.
 What's getting in the way of effective workplace communication, and what can business leaders do to recoup their share of the $1.2 trillion lost every year to ineffective communication in the US?
Download our State of Business Communication report to learn more.
So how do you train everyone on your team to communicate with your brand's personality, style, and standards? And how do you empower them to flex tone of voice while deftly wielding your brand tones through even the most nuanced and sensitive interactions?
Tip #1:
Shift for your audience
If any team understands the importance of shifting its brand tone, it's HackerOne. They work with everyone from Starbucks to the US Department of Defense, helping to identify and report security vulnerabilities before they can be exploited. But the team must balance communication between two distinct stakeholder groups: senior executives in cybersecurity and, as their name suggests, hackers who get the job done. 
By incorporating the company style guide directly into Grammarly Business, HackerOne gives its team highly customized writing suggestions in real time, including punctuation recommendations, approved phrasings, and acronym preferences. At the same time, Grammarly's tone detector helps team members strike the right brand tones, balancing the formality and informality necessary in their appeal to different audiences. 
Tip #2:
Shift for your channel
Airbnb varies its brand tones differently across channels. For instance, the brand emphasizes a supportive, warm tone when communicating with new hosts on its FAQ pages. Meanwhile, the brand communicates in a direct, aspirational tone on Instagram. This set of brand tones inspires travelers' wanderlust and encourages bookings.
When we look across the 30,000 teams using Grammarly Business to champion effective communication in their workflows, we see that using brand tones across customer-facing channels significantly impacts business results. Brand tones can improve NPS and CSAT scores, drive revenue, and improve the customer experience—all key to building and maintaining invaluable brand loyalty.
Tip #3:
Shift for the context
Encourage your teams to think about the business situation that calls for communication. What emotions might your customers and colleagues be feeling? What information do they already have, and what tone will speak to their mindset and experiences? Meeting customers and colleagues where they are reduces your brand risk and improves business outcomes.
Timing:

Where is your customer in their journey with your brand? If they're a new customer, it's appropriate to be welcoming and energetic.

However, if they're coming to you for troubleshooting help, it might be better to be more neutral or direct.

Sensitivity:

Why is your customer reaching out? If they've had a bad experience with your product, it's probably not the right time to bring out the humor in your brand voice. If they share a positive experience, a friendly and celebratory tone can validate their communication and deepen trust.

Frequency:

Is their issue or question common? Using

snippets

with built-in brand tones can give

your teams the specific phrases and details they need to meet customer inquiries, answer new-hire onboarding questions, or provide editorial feedback quickly and appropriately.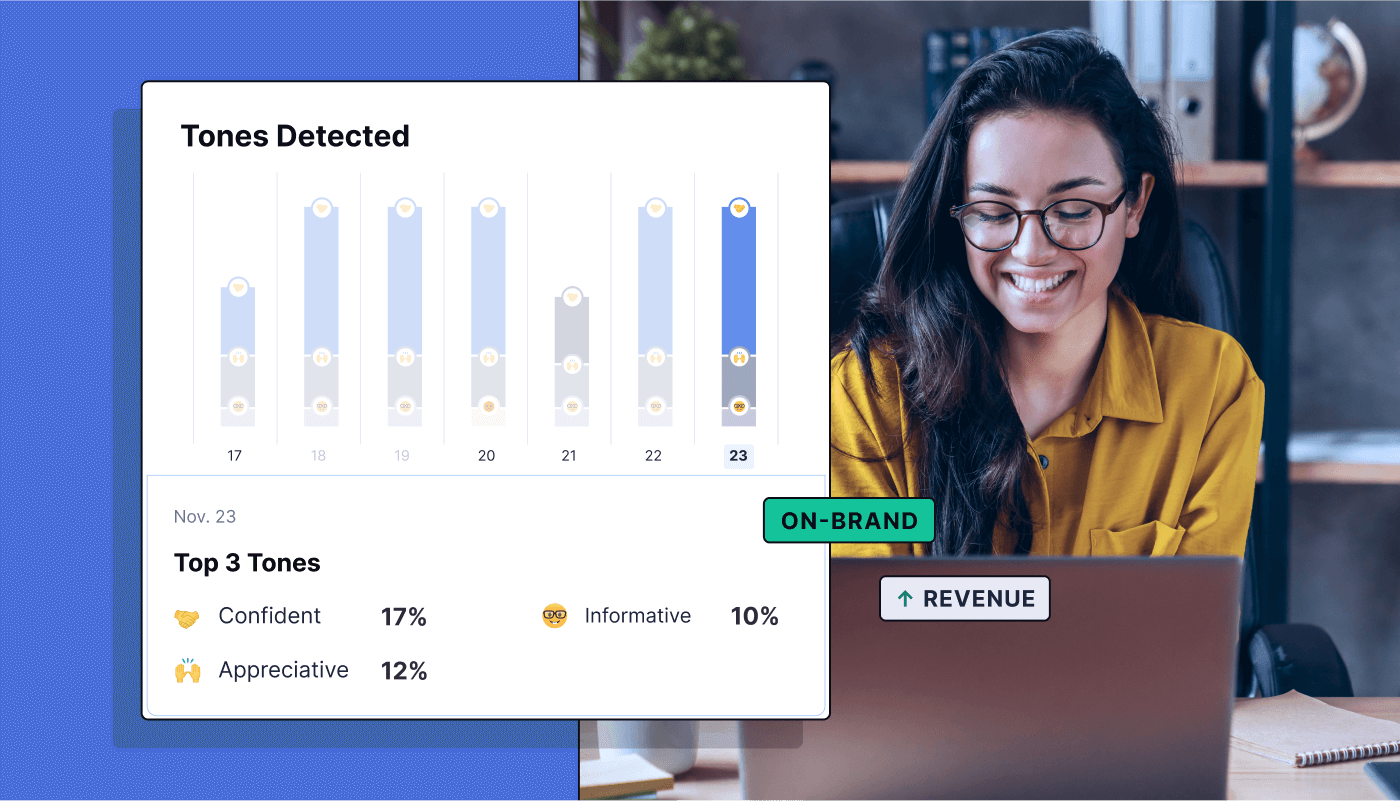 The difference between tone and voice (and why brand tones matter)
Your brand voice is part of your brand identity and conveys your brand values, style, and personality. It should be consistent across all your communications, and it can set the baseline for how the market perceives you.
Your brand tones can—and should—shift to fit different audiences' expectations, the channel standards, and each type of communication. Tone stays true to voice but flexes situationally to express a mood or emotion in individual messages. For example, a product announcement is likely to have a much cheerier tone than a response to a customer complaint. In the latter case, a conciliatory tone may be best, but whether it should be formal or informal will depend on your brand voice.
Customer expectations are always rising. So are expectations for respectful, collegial communication among co-workers. Using brand tones to help communicate with empathy, consistency, and expertise not only addresses your business needs but also helps the market recognize your brand voice at every touchpoint. You also help your team build trust within your organization and in all your communications with customers.
Learn more
Grammarly Business can help you adapt your brand voice with brand tones, so all your teams can communicate with quality and consistency on every project. Ready to get started? Sign up for a free trial. Have questions? Reach out to request a demo or to discuss your specific needs.