When it comes to customer-facing communications, businesses shouldn't have to trade quality for speed. After all, you need both for five-star customer experiences. Delivering great customer experiences correlates with increased sales and retention, according to research by Deloitte. Plus, as any sales, marketing, or customer support leader will tell you, meeting efficiency quotas and KPIs is an essential part of team success. 
That's why we're excited to introduce snippets from Grammarly Business. 
This new feature will help teams everywhere increase their writing speed by giving them the ability to use pre-written phrases everywhere they write, at the touch of a button. Here's how snippets work:
Effortlessly insert snippets in-line while writing.

Snippets can be as short as a phrase or as long as whole passages or paragraphs.

Leaders and approved contributors can create and manage a snippet library.

Individuals can also create personal snippets instantly.

Capture new snippets as you write.
Simply press the backslash \ to activate snippets. In just a few keystrokes, your team members can create or summon a time-saving snippet while delivering consistent, on-brand messages to your customers.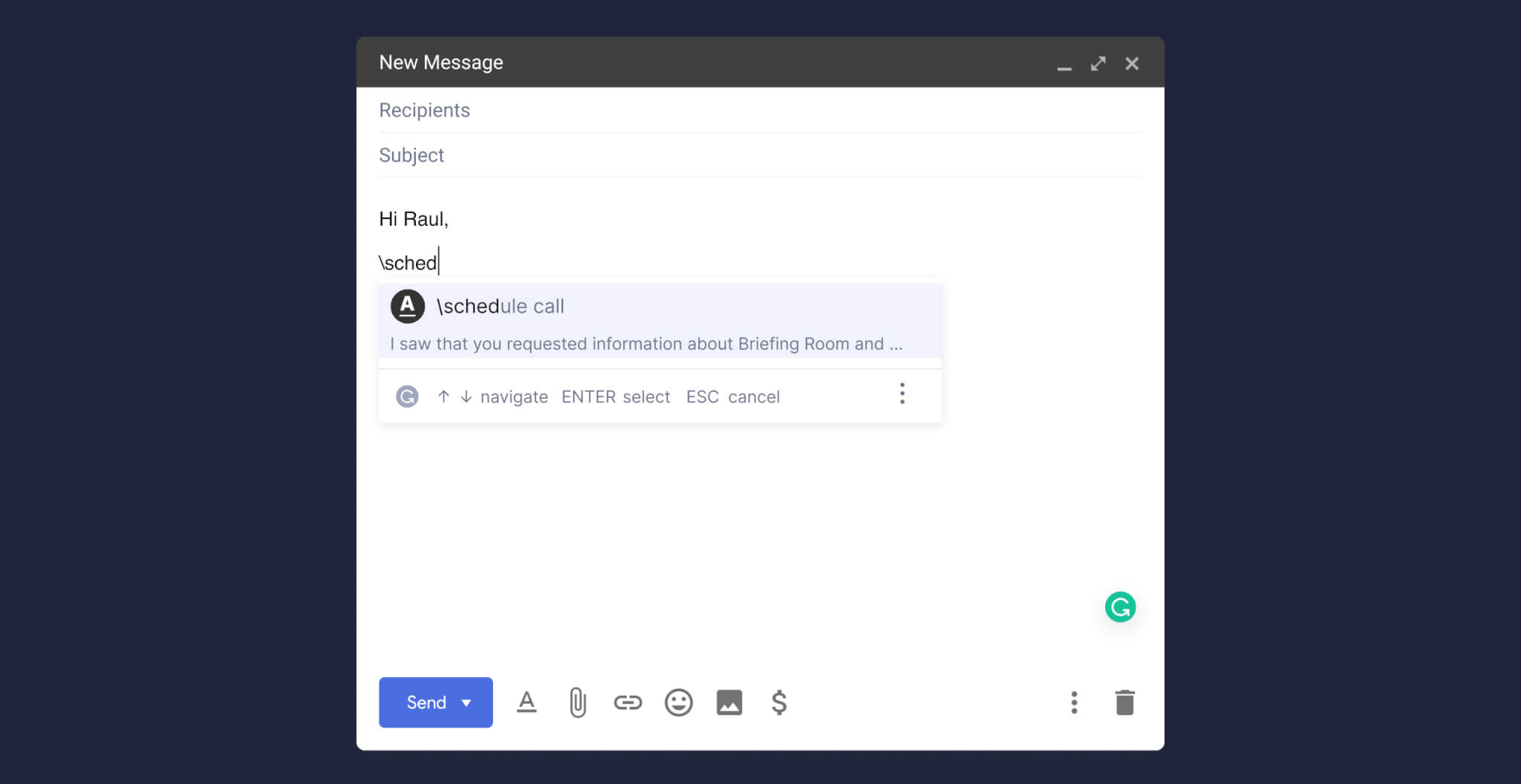 How support teams can use snippets to serve customers faster
Customer support teams can spend a lot of time communicating the same information over and over—like hours of operation, return policies, and even requests to pause while reviewing notes. Now, with snippets, agents can share common details and helpful resources in seconds without compromising their personal touch. 
Snippets help agents communicate nuanced policies or address sensitive topics like cancellations or refunds with pre-approved language that's always operationally sound and on-brand. Plus, customer support agents can work faster and smarter while feeling more confident and supported: They know the messages they're sending (even ones about thornier issues) are right on target.
"
The ease of creating customized responses and dispersing them to our team with snippets significantly beats out other similar solutions I've previously tried. This is a productivity game-changer.
"
Grammarly Business is helping customer support teams respond to 22% more tickets per hour and raise CSAT scores up to 30%. Early adopters of snippets in our beta program report even greater increases in productivity.
"As we've expanded our global support team, Grammarly Business has been an irreplaceable tool in meeting our customers' expectations with higher quality and consistency. We've already seen a boost in customer satisfaction. Now with snippets, we can address our customers' needs even more quickly," said Jimmy Snyder, Associate Director of Platform Support at Lucid, a research technology company that provides programmatic access to third-party data. "The ease of creating customized responses and dispersing them to our team with snippets significantly beats out other similar solutions I've previously tried. This is going to be a productivity game-changer, especially in times of urgency."
Get hands-on with Grammarly Business
To empower your team with effective and efficient communication
How sales teams can use snippets to close more deals faster
With snippets, your sales team can spend less time writing and editing and more time selling. 
Improve sales craft with snippets, which make it easy to polish proposals and decks.

Drive consistency with snippets in outreach emails, contracts, and even referral requests.

Increase productivity and save reps time with preset snippets right at their fingertips.

Align customer expectations to brand standards so the customer experience is positive and clear from the first contact onward.
Nine out of ten Grammarly users report our writing assistant saves them time. Using snippets helps shorten the overall sales cycle, accelerating wins and raising win rates—all because your sales team can deliver higher-quality communications faster.
Snippets also help sales leaders share best practices at scale. Leaders can create snippets based on proven techniques, including the best sales scripts and talking points, so even the newest hires can hit the ground running.
How marketing teams can drive brand consistency with snippets
Snippets help marketing leaders drive consistent brand messaging across teams and empower marketing contributors to produce high-quality content quickly. Grammarly Business already helps marketers cut writing time by 50%. With snippets, product launches can run more smoothly, brand campaigns can develop faster, and cross-team collaboration can be simplified.
Content creators can also move more quickly from a first draft to final approval. Thanks to snippets, it's fast and easy to capture and scale frequently used brand-positioning messages, benefit statements, and feature descriptions. Marketing and sales teams can collaborate seamlessly through snippets, sharing pre-approved snippets for a more consistent brand experience with prospects and leads.
Snippets are just one way Grammarly is doubling down on enterprise investments for teams
With new snippets, brand tones, multiple style guides, and analytics, Grammarly is the first and only writing assistant to help entire teams and organizations improve productivity while staying on-brand with consistent communication. With 30,000 teams at leading brands such as Cisco, Expedia, and HackerOne using Grammarly Business, we're gratified to see our writing assistant at the core of high-performing teams, with more effective communication propelling businesses forward to achieve their goals.
Learn more about our latest features for enterprise organizations, and contact us today to request a demo or upgrade your team.