Instant Citations, for Free

With Grammarly, you'll get automated APA, MLA, and Chicago-style citations built for you without having to leave a web page. You'll also benefit from more academic writing support, including plagiarism detection, citation formatting, and proofreading. 

User is able to see someone click Get citation and auto-generate a citation
Beyond Citations: Everything You Need to Ace Your Assignments

Ensure your essay has flawless citations and no plagiarism.

Proofread instantly for mistake-free writing.

94% of students say Grammarly Premium helped improve their grades.

Become a more confident writer over time.

Grammarly: The Writing Assistant for Better Grades

Grammarly's real-time feedback on every assignment helps you achieve standout introductions, flawless citations, and everything in between. Be confident your written work will make the grade with Grammarly.

Get citations within seconds

Pull automatically generated citations from online sources directly from your web browser as you do your research—preformatted and ready to go, whether you use APA, MLA, or Chicago.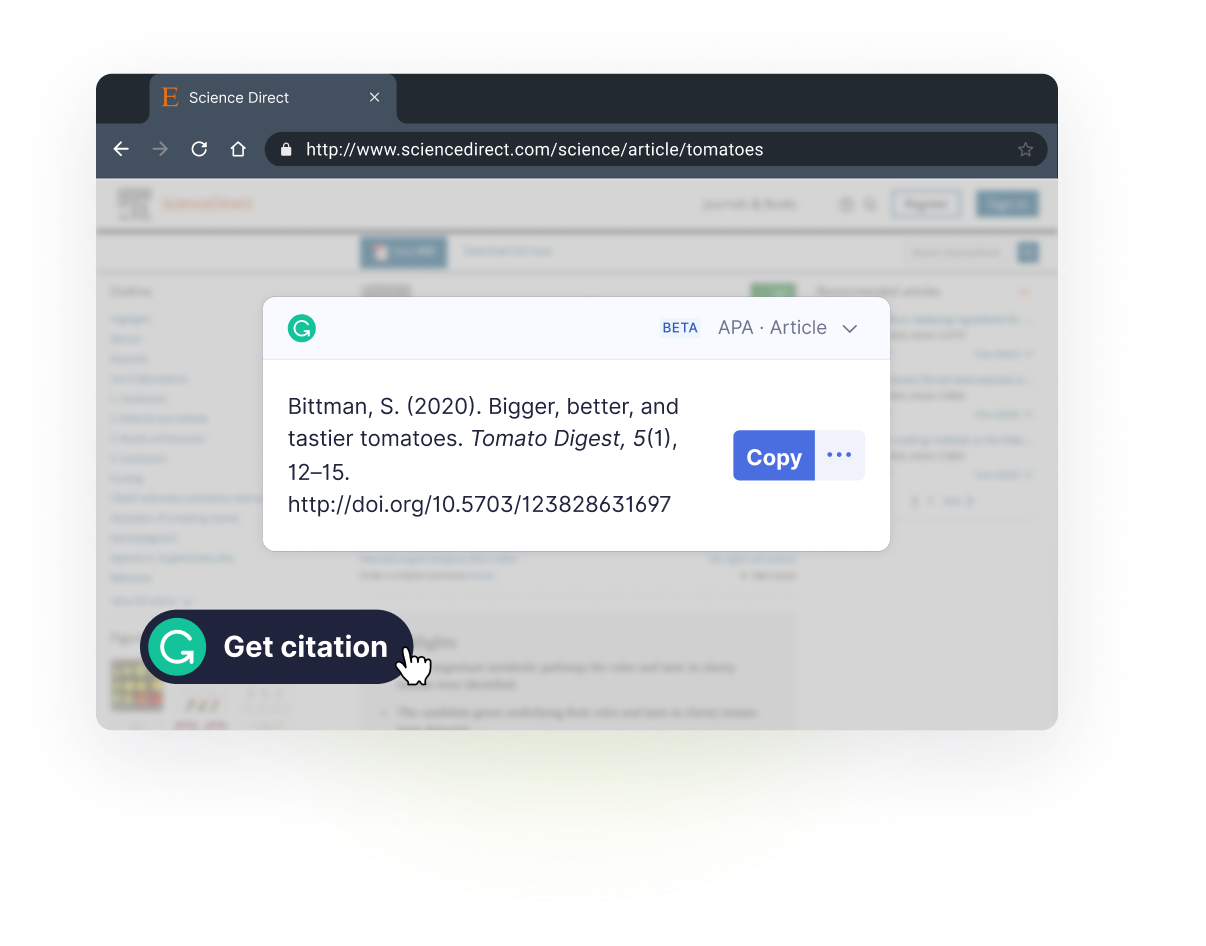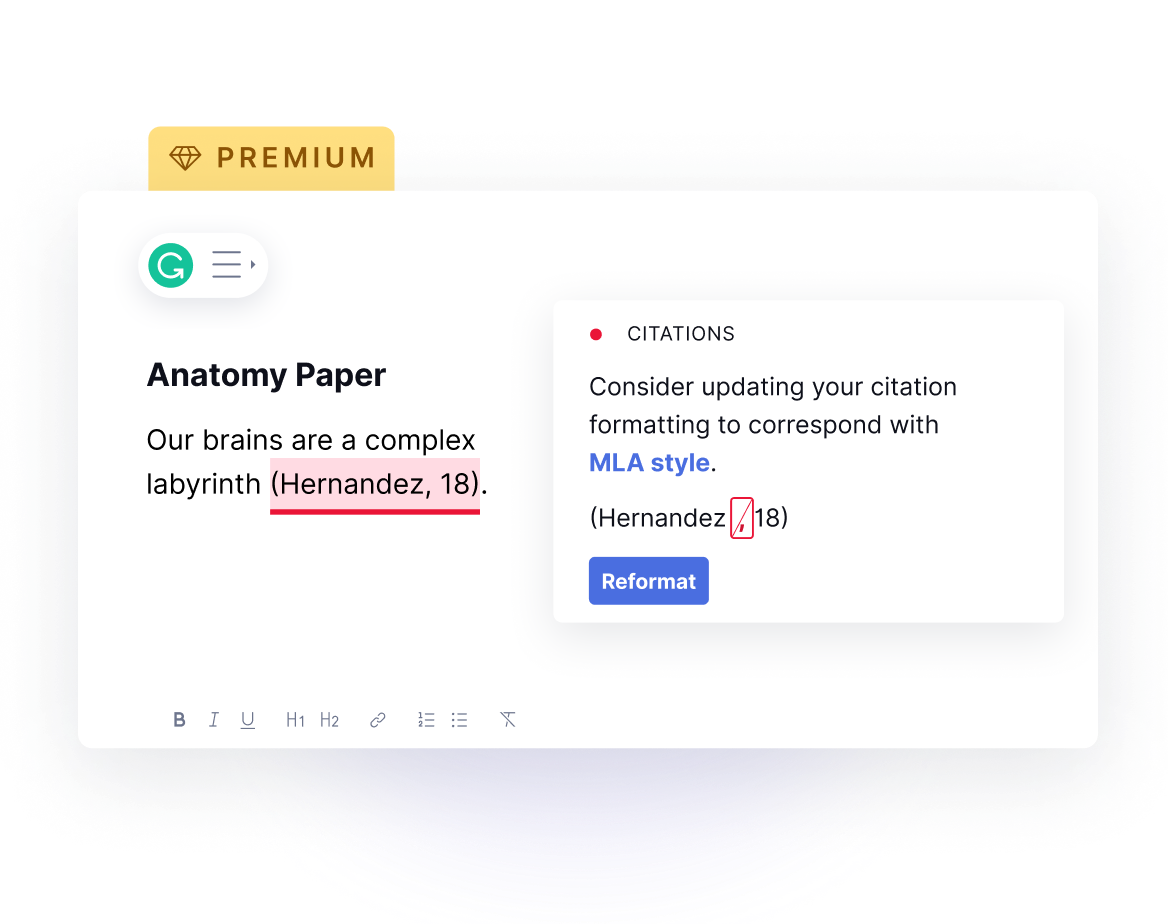 Never lose points over citation formatting

Supporting the most updated APA, MLA, and Chicago style guides, Grammarly will keep your periods, parentheses, and other punctuation consistent when you cite sources.

Keep your writing original

Avoid accidental plagiarism. While you write, Grammarly identifies passages that may need references and shows you what the source may be.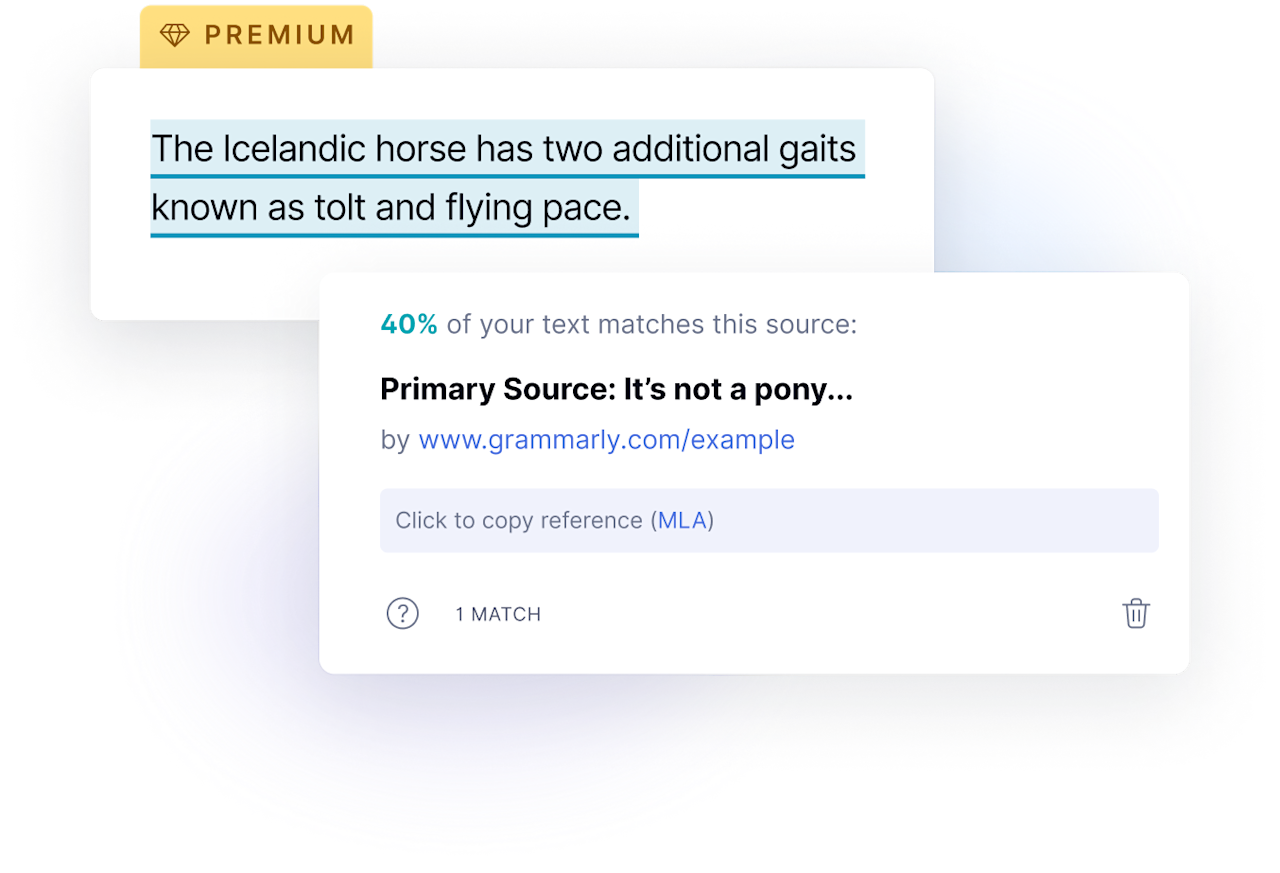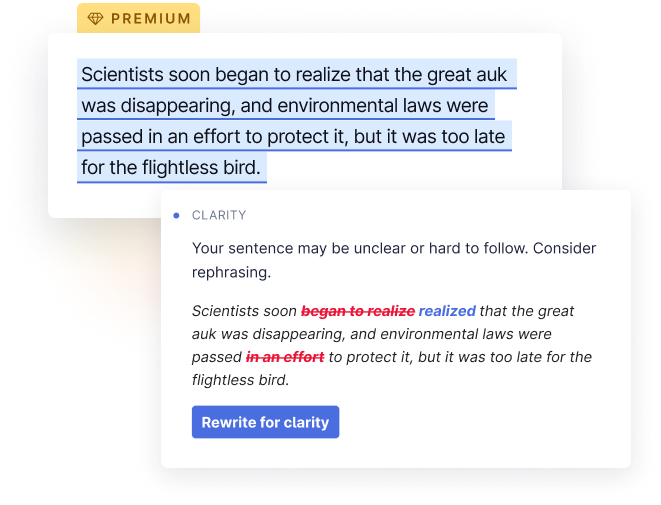 Make your ideas clear

More than just a punctuation or spell checker, Grammarly helps you clean up tangled, unclear sentences to get your point across.

Proofread with ease

With just a few clicks, clean up typos, subtle grammatical mistakes, and misplaced punctuation you might otherwise miss.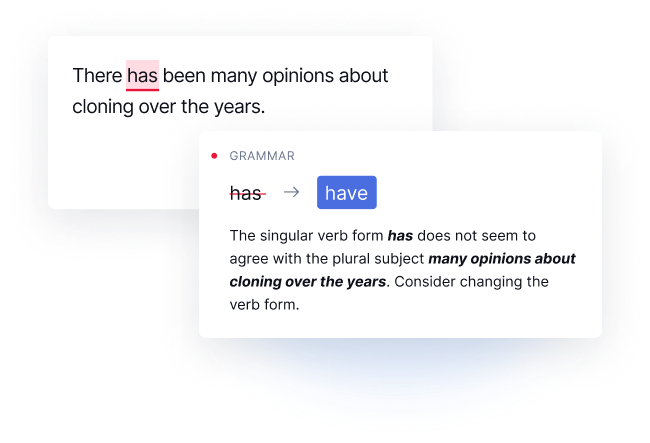 Works Where You Write

Whether you're writing a paper or discussing materials online, Grammarly is here to help you show up with confidence.






"Grammarly makes citations so easy and delightful. While working on my final dissertation, I saw a Grammarly pop-up on a research article just when I needed it. In one click, I got my citation. That's what you call the right feature at the right time!"

Sreekiran A.R.
M.Sc. Artificial Intelligence and Machine Learning at University of Birmingham
"Grammarly's citation features save me time and stress as I know my referencing has been taken care of for me. Life-saver!"

Lauren Hawke
Student, Human Nutrition
Trusted by Students and Educators at Over 3,000 Institutions, Including:

How to Cite (Practically) Anything

How do in-text citations work? Can you cite Wikipedia? What do you do if the scientific article has 25 authors, or the photo was published anonymously? Is your references page formatted appropriately? Fear no more—these articles guide you through common (and uncommon!) source variations so you can cite accurately.

Strong Writing, Proper Citations, Good Grades

96 percent of students say that Grammarly increases their confidence in their written material. Join them to give your writing—and your grades—that extra polish.