In our first-ever Grammarly Business MVC Invitational, Lisa Leslie explained what it takes to achieve gold medal-worthy team communication—in business and basketball. And she would know, she's won four Olympic gold medals and is a successful entrepreneur. Here are four key team communication tips to up your skills.
1

Break down big problems
Picture this: Team USA is playing basketball in Russia—and the heat's been shut off in the gym. By halftime, Team USA is down thirty points.
This is more than a basketball game. It's a mental game. Overcoming a lead that high is daunting. Rebounding from communications breakdowns is hard. 
Lisa Leslie knew her team needed to refocus.
"I remember huddling our team and saying, 'Listen, we are not going to lose this game.'" She remembers. "When you look at it from the big picture, we're down by thirty points. I told my team to break it down into small parts. 'Let's get it back within ten.'"
In business, you may see teammates struggling with a macro goal. It helps to break the macro goal into micro steps and bring your team together to align on who's taking what. That way, you can all work with a clearer vision of how to achieve the bigger goal—bit by bit. 
Get hands-on with Grammarly Business
To empower your team with effective and efficient communication
2

Be intentional about building strong team connections
When Lisa sees a teammate struggling, she asks if they would like to practice together, so she can better understand their preferred play style.
It takes intentional effort to reach out and build trust in hybrid and remote work environments, but it's worth it. If someone seems off in a meeting, follow up and see if you can help. As you continue working together, open dialogues to learn about teammates' work preferences. 
One challenge in building bonds is perceiving and understanding other personalities at work. Many people perceive their communication as better than those around them. The State of Business Communication report found that knowledge workers are more confident in their writing skills (73%) than their colleagues (62%). This can stem from having different communication styles or preferences.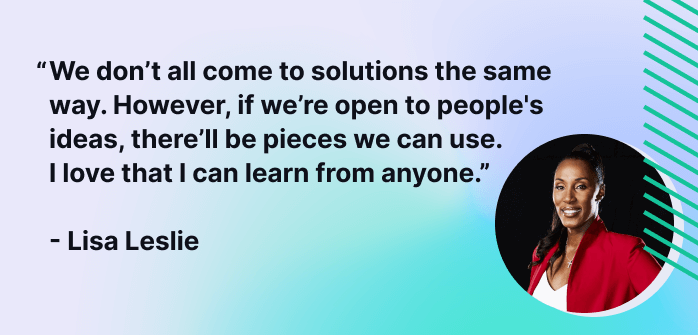 There are four common work communication styles, often referred to as DiSC. Learning your style and colleagues' styles can equip you to connect on a deeper level.
Dominant

– Decisive, efficient, intense, competitive 

Enjoy challenges to motivate them but may need to refocus on team priorities.
Influencer

– Talkative, outgoing, optimistic, enthusiastic

Crave opportunities aligned with their skills and may need help blocking distractions.
Steady – Relaxed, predictable, friendly, patient. Need to feel heard and may struggle with change.
Conscientious

– Reserved, cautious, high-achiever, logical 

Prefer clear guidelines and measurable feedback.
3

Remove emotion from high-pressure projects
Tensions rise when teams approach important deadlines, leading to communication breakdowns and friction. Lisa Leslie's trick for championship communication while competing on the world stage sounds simple. Two words. Remove emotion.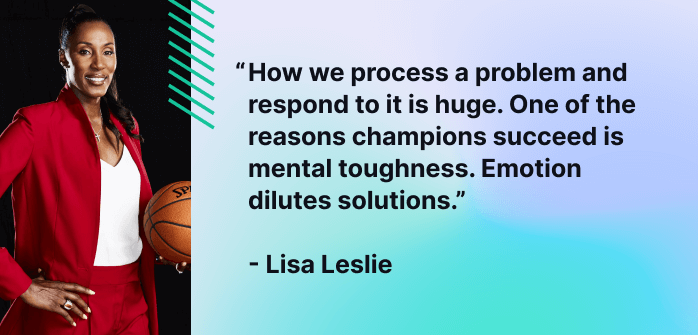 Lisa recommends focusing on how to reach shared goals and leaning into your confidence zone. Build up your team during these tense times because solutions are often found in team and individual strengths. That can mean knowing whom to turn to or how to unblock someone essential.
When sending messages during these stressful projects, check your delivery. Quick written responses can convey an unintentionally dismissive or harsh tone. 
Lisa says, "You have to be aware of tones, even in writing. You have to be aware of how you're communicating just as much as you're aware of what you're communicating." With Grammarly Business, tone detection helps prevent misunderstandings and promotes positivity.
4

Practice makes confidence
Self-evaluation is essential to growth. Identifying your challenges in a complex project can be hard, but it can reveal ways to improve. Lisa Leslie recommends reflecting on personal performance and setting short and long-term goals for success.
She started getting interviewed in high school after she scored over one hundred points in a single half of a basketball game. The next day every channel was at her school. When she watched the interviews, she didn't like what she saw. She practiced and took media training to remove "uhmms" from her answers and increase confidence and poise.
When it comes to written communication, Grammarly Business helps identify opportunities for improvement. Then offers real-time lessons like a coach. With the app, workers reduce mistakes by four times over the first four weeks. 
Insight overtime: Lead by action
Lisa shared that having a younger sister and older sister helped her lead or follow, depending on the situation. But she says when you start leading on a team, keep it up. Consistency is key once you step into a leadership role. "You have to be ready to compete, even in your job. It's a competitive market. You're trying to be your best and bring your best effort. When it comes to teams, I like to lead by action." 
To Lisa, that doesn't mean dominating conversations. She explained that good leaders know when and how to listen. That way, their thoughts and words will have more impact.
Everyone loves a team player who delivers their best and helps bring the best out in others. Effective communication is an essential part of that. The final piece of advice from Lisa Leslie we'll leave you with is, "It's not about who you know, but instead who knows you. Be your authentic self and make meaningful, genuine connections."
Grammarly Business helps more than 50,000 teams build connections with clear, consistent, and correct written communication. If you want to learn how, let's connect.