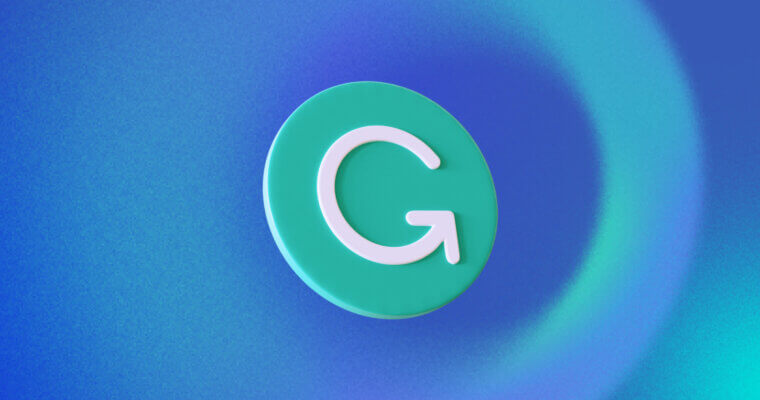 Since the company's creation, Grammarly has focused on a singular mission: improving lives by improving communication. This mission, along with our set of core values, has always guided our approach to innovation and growth. We're proud to support 30 million people every day while delivering over 100 billion writing suggestions to our users each month—and yet we're just getting started. Today I'm excited to announce a $200M+ funding round from new investors, including Baillie Gifford and funds and accounts managed by BlackRock, among others. They join us on our journey to transform how people and organizations around the world communicate.
At Grammarly, we believe communicating with confidence and empathy enables genuine connection, unlocks new achievements, and strengthens collaboration. We also know that with the proliferation of digital communication applications and channels, it's getting increasingly difficult to be understood as intended. Short-form messaging is becoming more commonplace while increased global connectivity is bringing new challenges and opportunities to our personal connections and professional successes. With our remote-first reality here to stay, effective communication is more critical than ever. That's where Grammarly comes in.
Write with confidence
Grammarly helps you communicate wherever you write
Grammarly is at the forefront of addressing the need for effective communication. We apply best-in-class NLP and ML methods and continuously fine-tune them to deliver precise and explainable communication feedback across user-friendly interfaces. Grammarly's real-time suggestions offer unparalleled contextual grammatical error correction, ensure consistency, encourage inclusive language practices, promote conciseness, and more. We've always believed the ability to communicate effectively should not be dependent on which application or operating system you choose, so we've invested in making our service available across more than 500,000 applications and websites, through various product offerings, such as our browser extensions and mobile keyboards.
Grammarly's platform helps people excel both personally and professionally. Sales leader Sara Conde relies on Grammarly to be "more efficient, confident, and polished." Tonya Fowler and the Frost & Sullivan research team cut editing time by 66% after making use of Grammarly a mandatory part of the process. First-time author Paul McIntyre proudly recommends Grammarly to "anyone who types anything" because "you'll sleep better at night."
We love hearing our users' stories and learning how Grammarly helps people achieve their goals. 🙌

How are you using Grammarly to help with your daily life? pic.twitter.com/Jxjxzfdc3H

— Grammarly (@Grammarly) November 11, 2021
Sara, Tonya, and Paul are three of the millions of people who use Grammarly to express themselves more effectively. Whether one's first experience with high-stakes communication is posting on social media or turning in an important essay for school, Grammarly exists to give our users confidence in that moment and throughout their whole life—in emails, proposals, reports, presentations, texts, and the many other communications that move the world forward. The impact is broad and varied: providing confidence, creating connection, learning, saving time, and achieving professional and personal success. For a student emailing a professor, a job applicant sending a thank you email, a customer service professional representing a company's brand, a salesperson emailing a lead to close a deal, or a small business owner crafting marketing materials, the message is the same: Grammarly is here for you.
Enterprises find immense value in Grammarly, too. Based on recent Harris Poll/Grammarly data, 87% of business leaders say that their team will not meet business goals without effective communication. In just the past year, the number of Grammarly Business customers with large-dollar contracts increased by more than 250%. Built for teams looking to achieve their objectives by turning communication into a competitive advantage, Grammarly Business has yielded real, quantifiable results. Teams at leading brands such as Zoom, Cisco, and Expedia are accelerating productivity and engagement, with an average 20% efficiency increase and 30% improvement in customer satisfaction scores. Grammarly Business empowers our customers to communicate with empathy and accuracy, accelerate their workflows, and ensure consistency across all brand communication.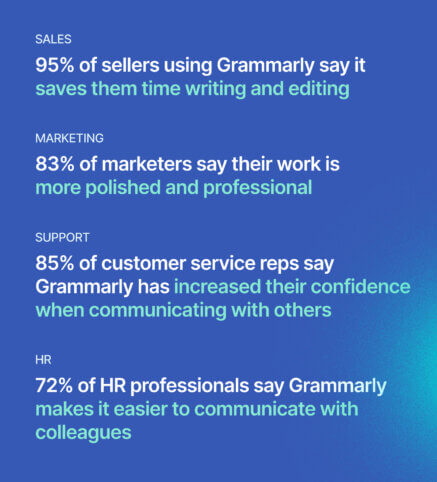 Since our last funding round two years ago, we've doubled down on our investments in security so our customers can rest assured their data is safe and secure. We've achieved new enterprise-grade security milestones, including a SOC 2 (Type 2) report, ISO 27001/17/18 certifications, and HIPAA compliance. But while some things evolve, others remain consistent. We're a profitable company that has been cash-flow positive since our very early days, and our business model puts our users first—because we make money from subscriptions, not from selling data or ads. 
So what's next for Grammarly? Growing our impact further by making our real-time communication feedback available to more people in even more places worldwide! 
This starts with the release of our new desktop application across two operating systems, launched this week: Grammarly for Windows and Grammarly for Mac. This is a big step toward breaking down technological barriers and achieving effective communication where important writing happens. With one easy installation, our writing suggestions will now work across more desktop and web applications than ever before.
Get Grammarly for your desktop
Write effectively across desktop apps and websites
We'll also expand our reach through partnerships. Our partnership with Samsung—which brings our advanced writing assistance to millions of Samsung mobile users worldwide—is just the beginning. We're further investing in Grammarly for Developers, enabling developers to incorporate Grammarly's writing assistance directly into their applications with just a few lines of code. Following the closed beta release of our first Grammarly for Developers product, the Text Editor SDK, we will be bringing on more partners through a general availability release in the coming months. 
Grammarly will also continue to advance our NLP and ML technology to deliver personalized communication feedback tailored to users around the world. As we delve further beyond syntax to semantics—with features like full-sentence rewrites, tone adjustments, and fluency feedback—we'll deliver even higher-quality communication suggestions across more stages of the communication process.
Grammarly empowers people to realize the possibilities and advantages that come with communicating effectively. Today we're thankful for our latest milestone! We're inspired by the innovations ahead and the many more people we can help.