Written by Erica Galos Alioto, Global Head of People at Grammarly
In our recent webinar, organizational psychologist and New York Times bestselling author Adam Grant shared his insights and tips for leading successful teams as we navigate the evolving work landscape.
One central theme emerged: Lead with empathy.
Our State of Business Communication report found that the top impact of poor communication is stress. We also learned that business leaders (57%) are prioritizing employee experience even over customer experience (50%). 
Whether you call it the Great Resignation or the Great Reshuffle, employees are looking for more from their employers, and not just more pay. It is vital during this time of constant change to empower, support, and motivate employees to retain top talent. Here are my top five tips from the webinar for leading with empathy to strengthen your company's performance:
1

Embrace curiosity and seek help

At Grammarly, one of our values is being remarkable, which emphasizes curiosity and a learning-driven approach to work. Grant shared that employees feel more secure asking questions when leaders admit they don't have all the answers. Reinforcing clarity-seeking behavior can help teams avoid mistakes while increasing creativity and innovation.

Some team members are hesitant to ask questions for generational reasons. More experienced teammates may feel they're expected to have answers already. Younger employees may not want to appear inexperienced or less valuable. When leadership embraces candid curiosity, it helps alleviate these concerns.

Grant also said leaders should model seeking help. Emotional transparency signals to your team that it's okay to not be okay. Creating a culture that promotes psychological safety—even when working remotely—can lead to vital dialogues that prioritize and protect your team's mental wellbeing.

Get hands-on with Grammarly Business

To empower your team with effective and efficient communication
2

Encourage sick days—and sad days 

Grant shared that one manager told their team to call in sad when experiencing mental health struggles. It reminded me of a recent mental health panel featuring Grammarly leaders. One said, "if you're not feeling mentally well, that is a sick day." I agree with that, even though it's not what we traditionally think of as sick. Mental health is just as important as physical health.

More companies are offering mental health days. And this trend isn't slowing down. Compassion fatigue emerged in offices as more people started struggling with the weight of their day-to-day due to the challenges of recent years. Taking time to rest and recover allows employees to bring their best selves to work with greater focus and better performance.
3

Give employees more autonomy

Your team should feel empowered to make decisions that increase their comfort at work. Show employees you trust them and care about their wellbeing by expanding flexibility. One small example that Grant offered was allowing employees to go off-camera for meetings. This may not seem like a big deal, but it provides major relief from Zoom fatigue. 

As Global Head of People for Grammarly, some employees came to me during the pandemic requesting to stay off-camera. They didn't have to worry about how they looked and could focus on what was being shared instead. Another way to emphasize autonomy is by encouraging breaks in the day, like taking walks or making time for coffee or for a stretch. Creating a flexible environment is one act of empathy that helps keep your workforce energized.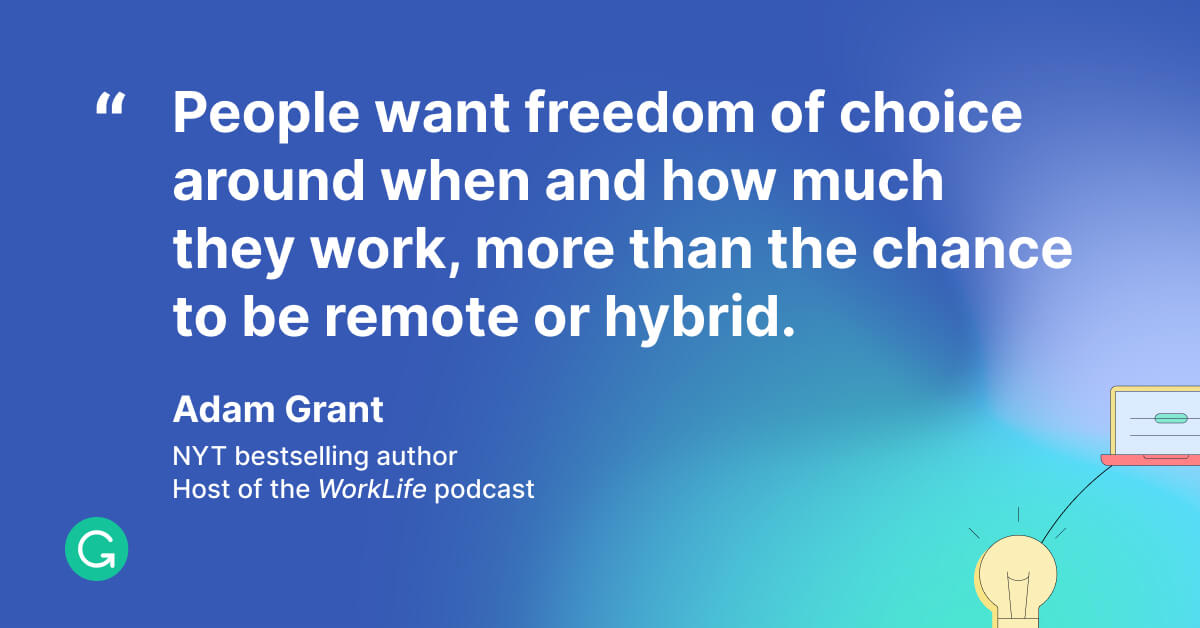 4

Adapt Adam Grant's "to-don't" lists for your team

Grant famously shared his "to-don't" list strategy in a top-viewed TED Talk. In our event, he explained how his list helped him maintain structure during the pandemic. Try using these lists to guide your team. When setting priorities, it's important to explain what employees do not need to sink time and energy into. If your team has a lot on their plate, to-don'ts can help alleviate some pressure. For example, I put formatting PowerPoint presentations on my team's "to-don't" list. I made it clear that content is the priority over visuals. It's one thing my team does not have to stress over.
5

 Set expectations and work boundaries

Business leaders sent in many questions for our Adam Grant event. The most common theme? Burnout. Grant explained that sending late-night emails can trigger unnecessary stress thanks to urgency bias. We are all relying on written communication more than before and, if not done right, that could mean more misunderstanding and unnecessary anxiety. Put your team's minds at ease by setting clear communication expectations and guidelines across various messaging tools.

Did you know you can schedule messages in applications like Slack? It's one way to wrap up your work without disrupting a teammate's night. Instead, write what you need to and they'll receive it when they're back online.  

Though teams may have an occasional event or project that leads to longer workdays, try to avoid it becoming the norm. When late nights happen, create balance by allowing those employees to leave early that Friday or start later the next day. Encourage your teammates to establish work boundaries. Lead the way by sharing your hours of availability and when you're out of the office.
Closing thoughts
Adam Grant highlighted opportunities to create more connected and productive companies as we respond to significant shifts to our world and business as a whole. And empathetic communication is essential.
Over the last few years, leaders have been asking, "How do we create an environment where people are heard, understand each other, and have a stronger connection—especially in remote or hybrid workplaces?" 
At Grammarly, we embrace empathetic and clear communication to empower, motivate, and support our teams. It's about relating and connecting: understanding when a teammate is sad or celebrating their wins. I'm proud of the engaged employee culture we've created and the powerful work it's led to.
---
How Grammarly can support your team
Ready to boost team morale and productivity through better writing? We've heard 76% of users say Grammarly Business increases their confidence when communicating. Learn how we can help you empower employees and colleagues with clear, empathetic, and effective writing.