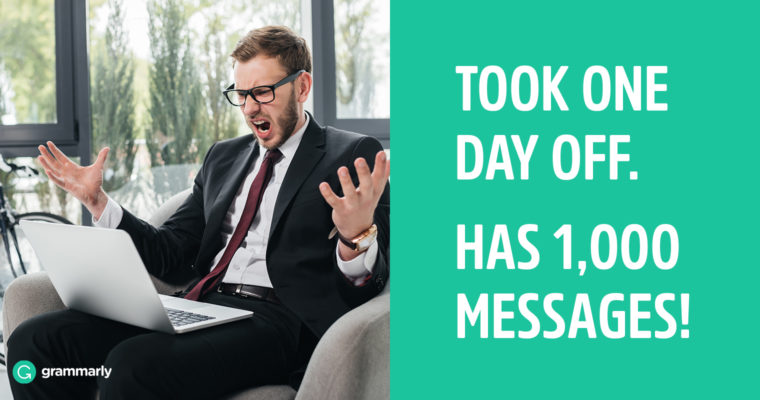 Are you reading this blog post at work? Tweet us (@Grammarly) if so.
We know the nine-to-five marathon can lead to moments of triumph and will even create hilarity. Just search Twitter for the confirmation. Enter "at work" in the search tab and you'll find an endless scroll of posts about people venting, over-sharing, even inspiring others with tales of their experiences in the workplace.
It's a pretty fun and often relatable experience.
So while you might feel compelled to share your work-life experience for those around you to laugh along, know that you are not alone.
With this in mind, we grabbed a few memorable "at work" tweets to dive deep into the common pain points of work and have a chuckle at the same time.
At work, when you don't know what to do, just walk fast and look worried.

— Bill Murray (@BiIIMurray) December 14, 2017
thank you office heating system, I am truly in hell

— ?Topher The Holidays? (@mugwumpian) November 3, 2017
They got all these sweets in this office and I'm stressed.

— Bonnie Winterbottom ADA (@liluglymillz) November 3, 2017
thought it'd be fun to put a movie on in the office but i'm the only one watching it ?

— Carole Ann (@polterNICE) November 3, 2017
I keep getting crunched by the elevator doors at work

— Gabby Kaufman (@gabbykaufman) November 3, 2017
my boss insists that we play a specific classical station over the speakers at work

— Kaypar (@AgentKaypar) November 3, 2017
I had TWO people at work tell me I look like @britneyspears before noon today.

— Kendall (@kendallllla) December 12, 2017
8 @ayxhee
Pro tip #1: close your door at work so people think you're busy and don't bother you Pro tip #2: if you don't have a room take a bathroom break and cry

— aysh(e) (@ayxhee) December 12, 2017
Me. At work. Is it spring yet? pic.twitter.com/5tJJH9DAtp

— ⚜️TheHealstorian (@TheHealstorian) December 12, 2017
Also, I came up with a corny joke when I was at work a few days ago.

"What do you call a friendship between silverware?"

"PLATEonic love"

— Festive/Winter Aaron (@gokuthedegeso) December 14, 2017
11 @sxlwiaxo
A girl at work saw my surname today and the first thing she said was "did someone sneeze when typing what ever that is?" ???

— sylwiaa (@sxlwiaxo) December 14, 2017
I felt obligated to eat two cheesecake cups at work today because the lady who made them made sure to use gluten free ingredients. It's better to be nice than to be skinny.

— Cheyenne Creek (@cheyenne_creek) December 14, 2017