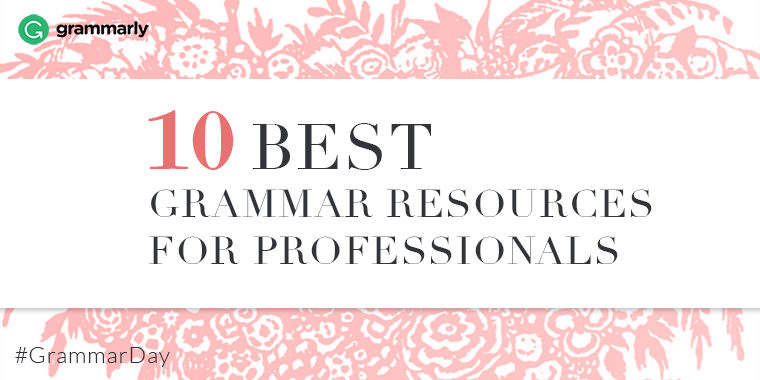 No matter how much we language lovers might chafe at lax writing styles, the proper use of grammar carries different weight depending on the circumstances. Even the most optimistic language lovers don't expect to see a lot of correct grammar usage when they're reading comments on YouTube or other websites. Grammar and text messaging or emailing also don't necessarily go well together, and that can be perfectly fine, even if it makes us cringe.
Here's a tip: Want to make sure your writing always looks great? Grammarly can save you from misspellings, grammatical and punctuation mistakes, and other writing issues on all your favorite websites.
Your writing, at its best.
Be the best writer in the office.
In a professional setting, good grammar carries more weight. Whether it's in business correspondence, written reports, or articles for blogs or print, improper use of grammar can, and will, damage the credibility of the writing and the writer. So, in the spirit of National Grammar Day, here are ten resources that anyone writing in a professional capacity can use to learn about grammar, practice it, or look up any dilemmas.
In the forty-six years since its first edition, William A. Sabin's The Gregg Reference Manual has become arguably the best-known style guide for business and professional writing. It might not be a grammar textbook, but for the professional who needs to write in English and has tough grammar questions that need answers, The Gregg Reference Manual is the book that should always be within arm's reach.
The Economist Style Guide is another guide commonly used by professionals. While one of its primary goals is to enhance clarity in writing, it also contains enough information about grammar to serve you well if you need a glance at a grammar rule or two.
The Oxford Dictionaries website has a grammar section with an excellent reference list of grammatical terms, proper grammar explanations, and grammar tips. Coupled with a dictionary and a synonym finder, the Oxford Dictionaries website is a valuable resource for any English speaker.
HyperGrammar is an online course from the University of Ottawa Writing Center. While it might not have the structure of a classical course with lessons, it still contains all the material you would find in one. Professionals could use HyperGrammar to brush up on their English grammar, or to learn those pesky little rules they somehow always managed to miss.
Paul Brians, the person behind this list of common errors in English usage, is an emeritus professor of English at Washington State University. His website contains charmingly written explanations of common errors in English usage, and even though they are not short and succinct, they are worth reading.
Being a publication with a tradition of good writing and proper grammar usage, The New Yorker itself can be a valuable resource for anyone taking their writing seriously. However, when Mary Norris, an author and one of the magazine's copy editors, creates a series of short clips about commonly mistaken rules in English, they form a collection of lovely morsels of grammar info for any professional.
Lynn Gaertner-Johnston's website is one of the best places on the web to look for advice on business writing. It also contains information on grammar issues that might be of particular interest to those who write in a business environment, from executives to people applying for jobs.
Grammarbook.com offers short, straight-to-the-point explanations of grammar rules with examples to back them up. It also includes notes on the informal use of English, and that makes it an excellent resource for discerning between informal and formal use.
The British Council's website has everything a professional might need to learn to use English better. It has a series of English learning podcasts for professionals, it has both grammar lessons and a quick grammar guide, and it has an app that helps you improve your grammar regardless of your level of proficiency with English.
There's a saying that England and the United States are two countries separated by a common language. The truth of that saying might be up for debate, but there's no doubt that British English and American English have some differences. While they are mostly in spelling, there are a couple of subtle grammar differences, and Cambridge Dictionary's website lists all of them.