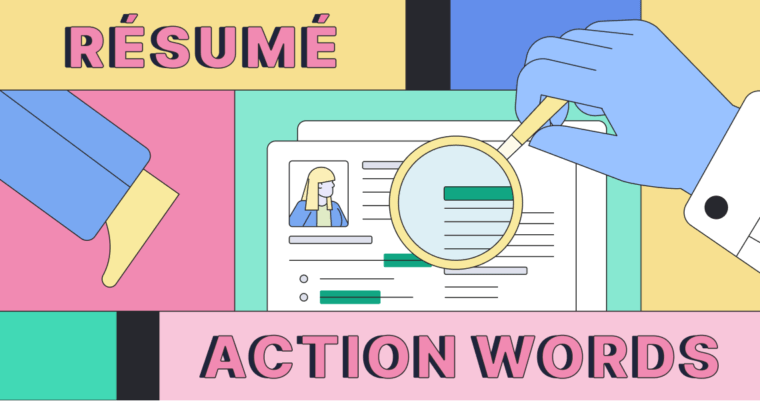 You're writing your résumé for a competitive job application, and you know you need to make it stand out—but how? Which words should you use in your résumé? If you're struggling with writing your résumé in a compelling way, this guide is for you.
One study by tlnt.com found that applicants are far more likely to get an interview if they begin their résumé sentences with action words. This practice is effective because action words catch the reader's attention and illustrate not only what they did but how they did it.
First, we'll learn what action words are and why you need them. Then, we'll dive into how you can use them in your résumé, with examples.
Give your writing extra polish
Grammarly helps you communicate confidently
What are action words for your résumé?
Action words, also called résumé action words, are verbs that express what you've accomplished in your job. Hiring managers look for these words in résumés to get an understanding of your experience. They also consider how those verbs might translate to the role they're hiring for.
The purpose of using action words in your résumé is to highlight your achievements. Every point you include in the experience section of your résumé should begin with an action word. Action words include terms such as discovered, analyzed, created, built, and managed.
How to include action words in your résumé
Now that you understand why action words are essential, you're probably wondering how to include them in your résumé. Just like using résumé keywords directly from the job description, you can use action words in your résumé too.
Take a look at the job description you're applying for and consider which verbs in the description fit with your current experience level and accomplishments. Then, review your résumé and use them, where appropriate, to describe your experience.
When you use action words in your résumé, you want them to add strength and clarity. Pair them with a result to make them even more powerful. If you don't have many results, be specific about your methodology.
For example, if you were a team lead at a copywriting agency, you could say, "Managed a team of writers to complete four sales web pages and product launch packages per quarter." Or you could say, "Streamlined product development using the Scrum method."
What kind of action words should you use in your résumé?
The best action words are ones that are accurate and descriptive. There are many powerful résumé words; it's just about finding the right match for your experience.
Another rule of thumb is to be as specific as possible, encompassing what you did, how you did it, and what you achieved. You can also be clear by using industry-related words; just make sure your jargon isn't too obscure for the person reviewing your résumé.
What kind of action words should you avoid in your résumé?
Certain action words are less potent than others. It's best to avoid clichés and overused words, as well as vague language that leaves the hiring manager unsure of your responsibilities. You may also want to consider whether any jargon words you're including are necessary, or if there's a more straightforward way to say what you did.
Résumé action words examples
Looking for inspiration? Try one of the action words from these lists to punch up your résumé. To make examples easier to find, we've grouped the words by action.
Managing a team
Coached
Contracted
Coordinated
Cultivated
Delegated
Directed
Facilitated
Guided
Mentored
Trained
Management skills action words in a sentence:
Guided a team through a $70,000 launch using the Kanban method.
Directed a team of writers and designers to achieve a 50% email open rate.
Facilitated a team of engineers using the Scrum method.
Supporting a project
Accelerated
Achieved
Collaborated
Crafted
Created
Developed
Drafted
Expanded
Expedited
Identified
Innovated
Investigated
Partnered
Supporting role action words in a sentence:
Accelerated product development by introducing a ticketing system.
Expanded the account's audience by 100,000 followers.
Achieved sustained growth of the email channel by 15% quarter over quarter.
Expedited shipping and receiving processes to save more than seven hours of labor per week.
Research
Analyzed
Collected
Communicated
Compared
Condensed
Evaluated
Investigated
Published
Reported
Spearheaded
Supplied
Research experience action words in a sentence:
Supplied the marketing, creative, and sales teams with targeted market research.
Communicated risks and benefits to stakeholders to conserve budget.
Spearheaded the lab's building of information banks about the red-crowned crane.
Collected data in Dr. Sand's lab on the effects of sleep apnea.
Writing
Crafted
Created
Developed
Established
Examined
Formulated
Identified
Illustrated
Integrated
Introduced
Revised
Vetted
Writing background action words in a sentence:
Examined interviews with founders to create a lead generation white paper that was downloaded over 5,000 times.
Identified holes in the content strategy and developed blog posts catering to the target audience and SEO.
Crafted compelling product descriptions boosting cold sales by over 25%.
Communication
Advised
Advocated
Consulted
Cultivated
Explained
Forged
Fostered
Hosted
Navigated
Persuaded
Communication skills action words in a sentence:
Navigated relationships with clients and stakeholders as a team leader.
Hosted a dozen town halls and translated feedback into actionable plans.
Forged a relationship with the administrative staff to establish a better scheduling system.
Achievements
Achieved
Actualized
Advanced
Attained
Boosted
Executed
Fulfilled
Generated
Initiated
Launched
Produced
Redesigned
Revitalized
Secured
Strategized
Highlight your achievements using action words in a sentence:
Secured a $2 million contract with a high-profile corporate client.
Generated $40,000 in sales from one win-back email sequence.
Boosted enrollment to attain 6,000 new students in one year.
Résumé action words FAQs
What is a résumé action word?
A résumé action word is a verb that describes what you've done at work. Hiring managers look for these words in your résumé to get a clear sense of your experience and background.
Why should you use action words in your résumé?
Using résumé action words increases your chances of getting your résumé noticed by hiring managers and recruiters because they make your résumé more compelling.
What type of words should you use?
You should use verbs and industry-related words in your résumé. Also, be sure to write about your accomplishments and use the active voice.