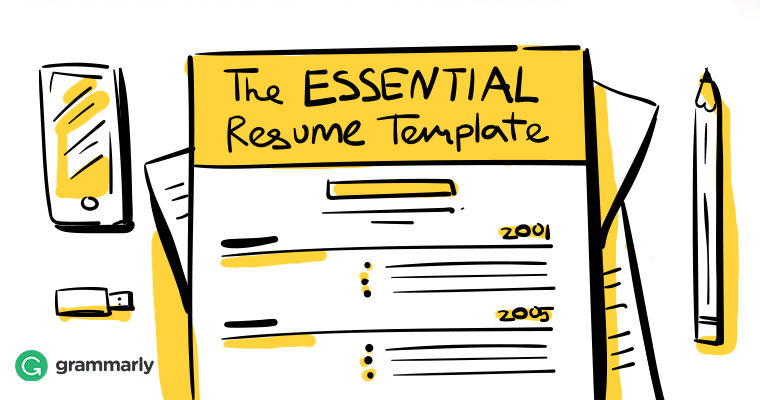 There are two things you need to keep in mind when you're thinking about what to include in a résumé. First, you should be aware that a lot of recruiters and employers use special software that searches your résumé for specific keywords. Even when your résumé does get seen by human eyes—and this is the second thing you need to remember—the employer will take only six seconds to make a decision about how good of a fit you might be for the job.
Write powerful résumés.
Stand out to recruiters.
To make sure your résumé gives you a fighting chance of finding employment, it would be a good idea to develop a résumé template. That's where we can help, by giving you the information you need to write each section and arrange them according to your strengths.
What to include in a résumé
The average résumé contains the following sections: contact information, résumé introduction, education, professional experience, skills. You can also add a section with special honors, activities, and even hobbies, but we will focus on the five sections that are usually seen in a résumé.
Depending on the arrangement of the sections, résumés are divided into three types: the chronological, the functional, and the combination format. In all three of them, the contact information goes at the top of the résumé and is followed by the résumé introduction.
If you choose the most commonly used format, the chronological one, you will follow the contact info and introduction sections with professional experience, education, and skills. Students might want to place education before professional experience if they don't have a lot of professional experience.
In the functional and the combination format, the emphasis is on the skills section, which should follow the contact information section and the résumé introduction. The professional experience and education are placed after the skills section, with a slight difference in how you list the items in the section.
These are the choices you have regarding the format, but do you know which one you should choose? It all depends on what you want to put in your résumé.
Put your strongest section closer to the top of the résumé. If you're applying for a job for which you have plenty of relevant experience, it makes sense to choose the chronological format. If, on the other hand, you're changing industries or have a chaotic professional history, one of the two other formats might suit you better. When you choose the format, you can start making the résumé from the top down.
Contact information
Your contact information should include your name, address, phone number, and email address, plus a link to a portfolio or website and possibly even a link to your LinkedIn profile.
You should place your name, in bold and a slightly larger font than the rest of the résumé, on the very top. Below it, you should write your address, or at least the city and the state you live in, and then list your phone number and email address, maybe even on the same line.
Your personal website and social media profiles should only be included in the contact information if they can serve as your portfolio. Social media managers, for example, can include a link to their Facebook pages, and web designers can include links to their personal websites if they designed them.
The one thing you should be aware of is that contact information, even though it should be on the top of the résumé, should not be placed in a header, as some of the software used to scan résumés cannot read headers.
Résumé introduction
The introduction is where you would put your professional summary, a branded statement, or the objective statement.
Objective statements used to be the only way to go for a résumé introduction—a brief statement of what you want to achieve with your résumé with a reference to why you think you should achieve it. Objective statements are a mix of your goals and your experience, although some sources advise you to remove the part about your goals and instead present a summary of your professional experience (or a statement about who you are and what you're about if you don't have a lot experience).
Professional experience
In the professional experience section, list the relevant jobs you previously held. They should follow a simple template: for each job, write the name of the company, its location, your job title, and the dates of your employment. If you want to make the gaps in your employment look smaller than they really are, you can write only the years of your employment; otherwise, it's usual to use the month and the year.
Each job you held should be followed by a few bullet points which list your achievements and duties. It would also be a good idea to include a quantifiable data point. For example, if you were responsible for hiring new staff at a job you had, include the number of staff members you hired. Also, don't use the formulation "responsible for hiring new staff." Use active verbs instead, and say "hired twelve new staff members."
Education
Unless you're fresh out of college and don't have a lot of skills or professional experience, your education section should be pretty straight-forward—the name of your college, your degree, and the year you graduated. If you didn't go to college but have skills and experience, you could list the name of your high school, its location, the year you graduated, and your GPA (if above 3.0).
If you don't have any work experience, you might want to expand your education section and include academic achievements, relevant coursework, and activities. Of course, you should list these things using bullet points.
Skills
If you've chosen to create a résumé in the chronological format, your skills section should be the place where you write a couple of skills you haven't been able to fit in anywhere else in the résumé.
However, if you're writing a functional or a combination résumé, your skills section is the most important part. Choose between three and five skills that are most relevant to the job you're applying for and list them in the section. For each of the skills, create a bullet-point list of at least three items that support the skill. Remember to use active verbs and quantifiable points when possible. When you finish, your skills section should look similar to how professional experience sections look in chronological résumés.