Your Context, Your Voice,
Your Assistant

Go further with Grammarly—now with the power of generative AI—across all the spaces you write. It's the AI communication assistant that's up to speed on your context and preferred writing style.


Ideate, Compose, Rewrite
Writing That Moves You Forward

Unblock your ideas and accelerate team and individual productivity. Click the Grammarly button to compose, ideate, rewrite, and reply with a ready-to-go AI co-creator that understands your communication context and goals.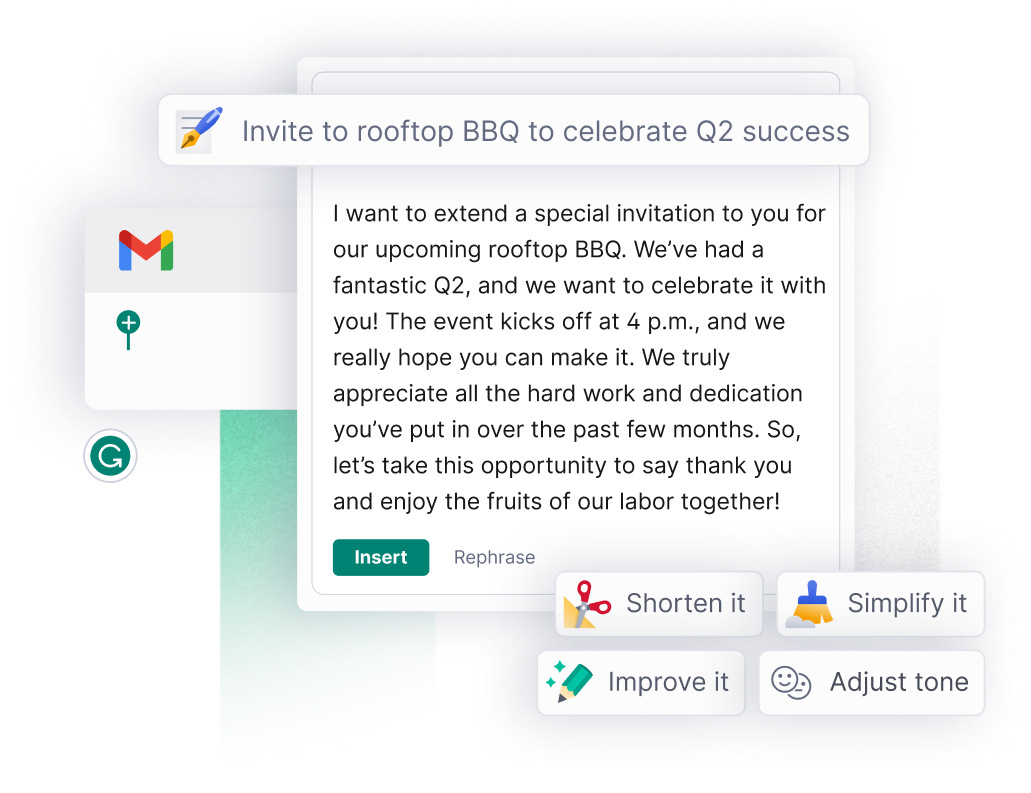 Accelerate your writing process

Prompt Grammarly's generative text feature with basic instructions to get polished drafts in seconds. You give some background, and Grammarly gets your message onto the page.

Rewriting made delightful

Grammarly's generative AI finds ways to make your writing shine—and gives you new versions to consider.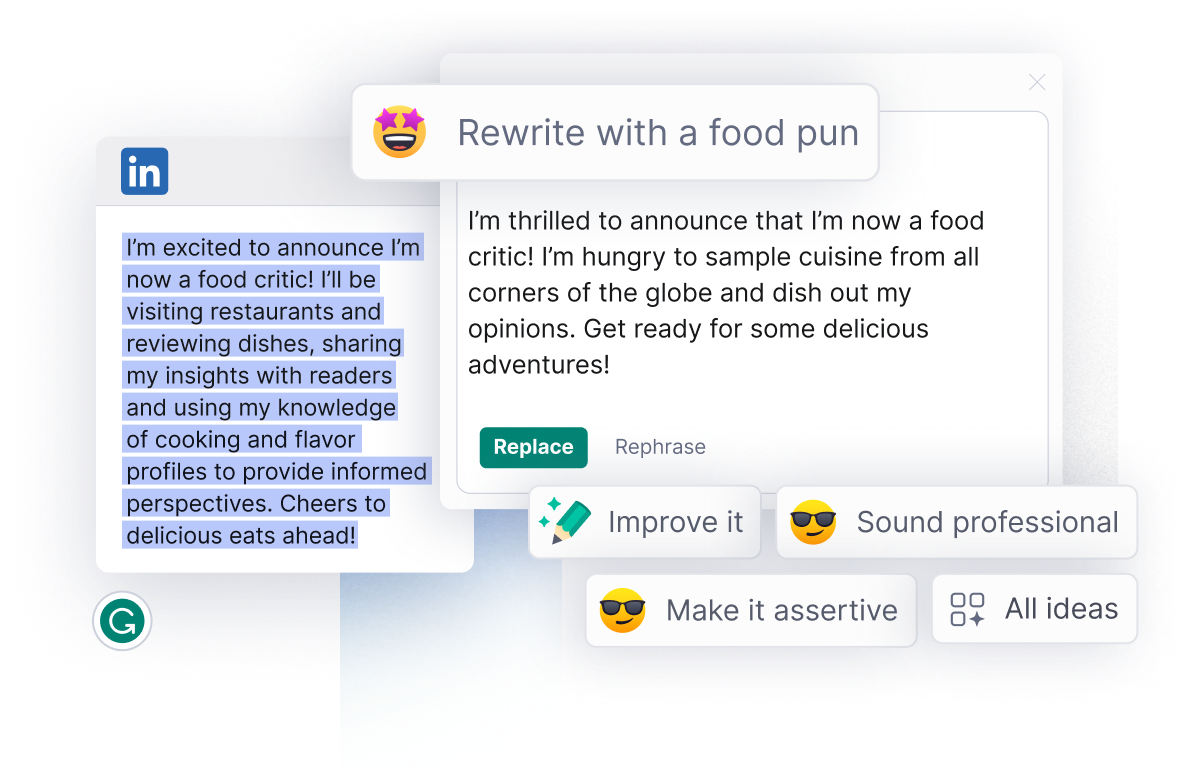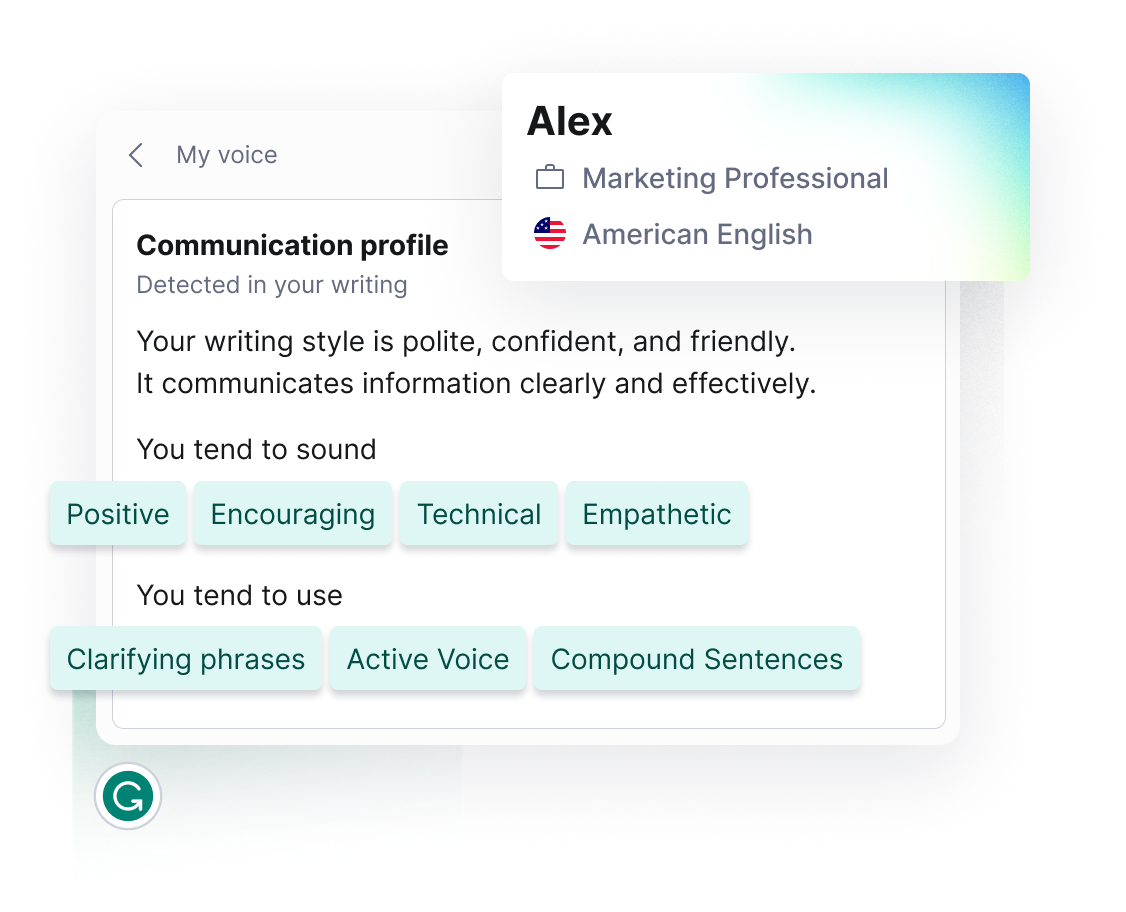 Assistance, in your voice

Write in your voice using generative AI with customizable profile options for tone, formality, and professional relevance.

Ideas that come to you

Jump-start any document with ideas or structure delivered straight to the page you're already on. Brainstorms, outlines, and new perspectives are at your fingertips.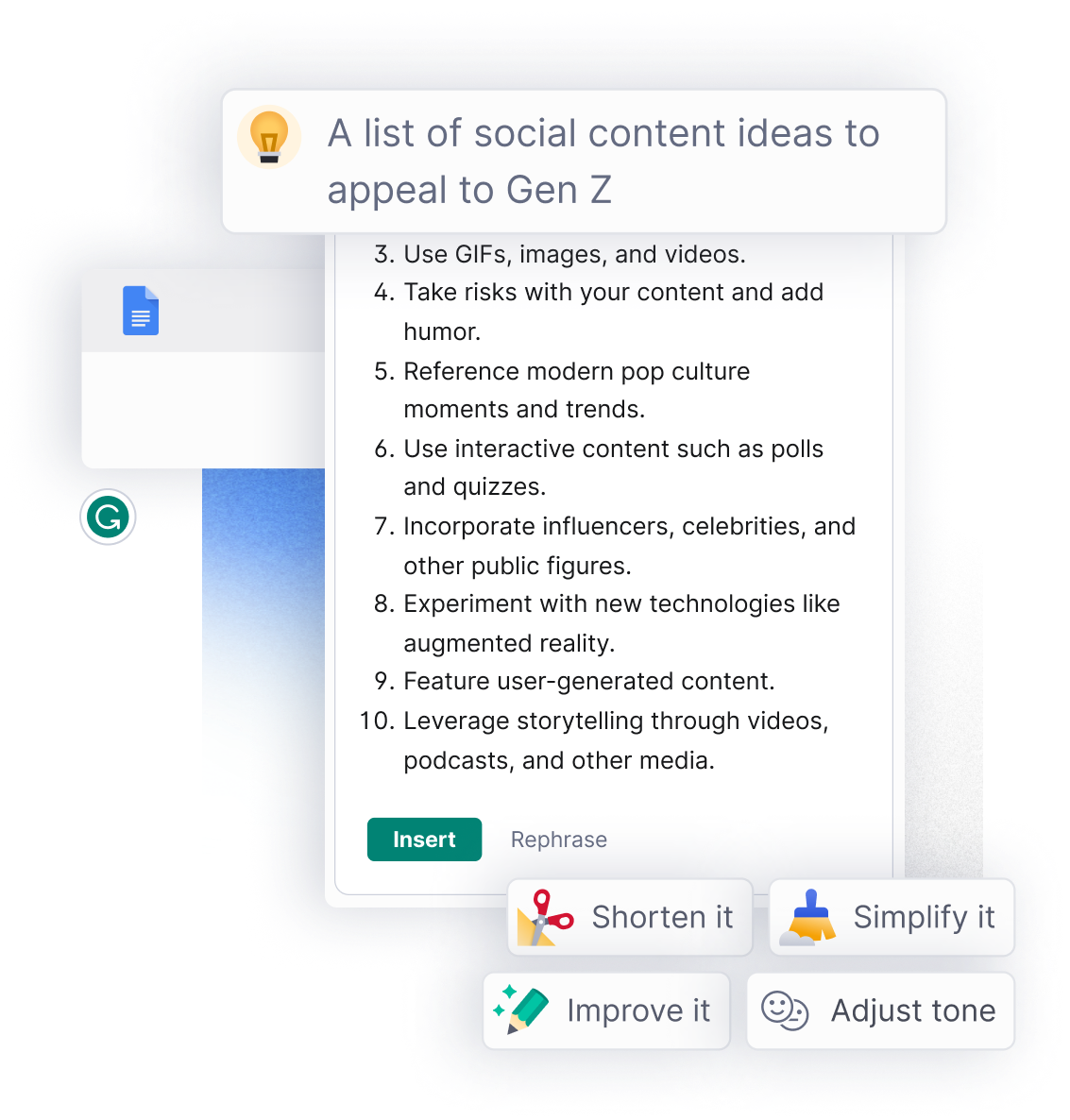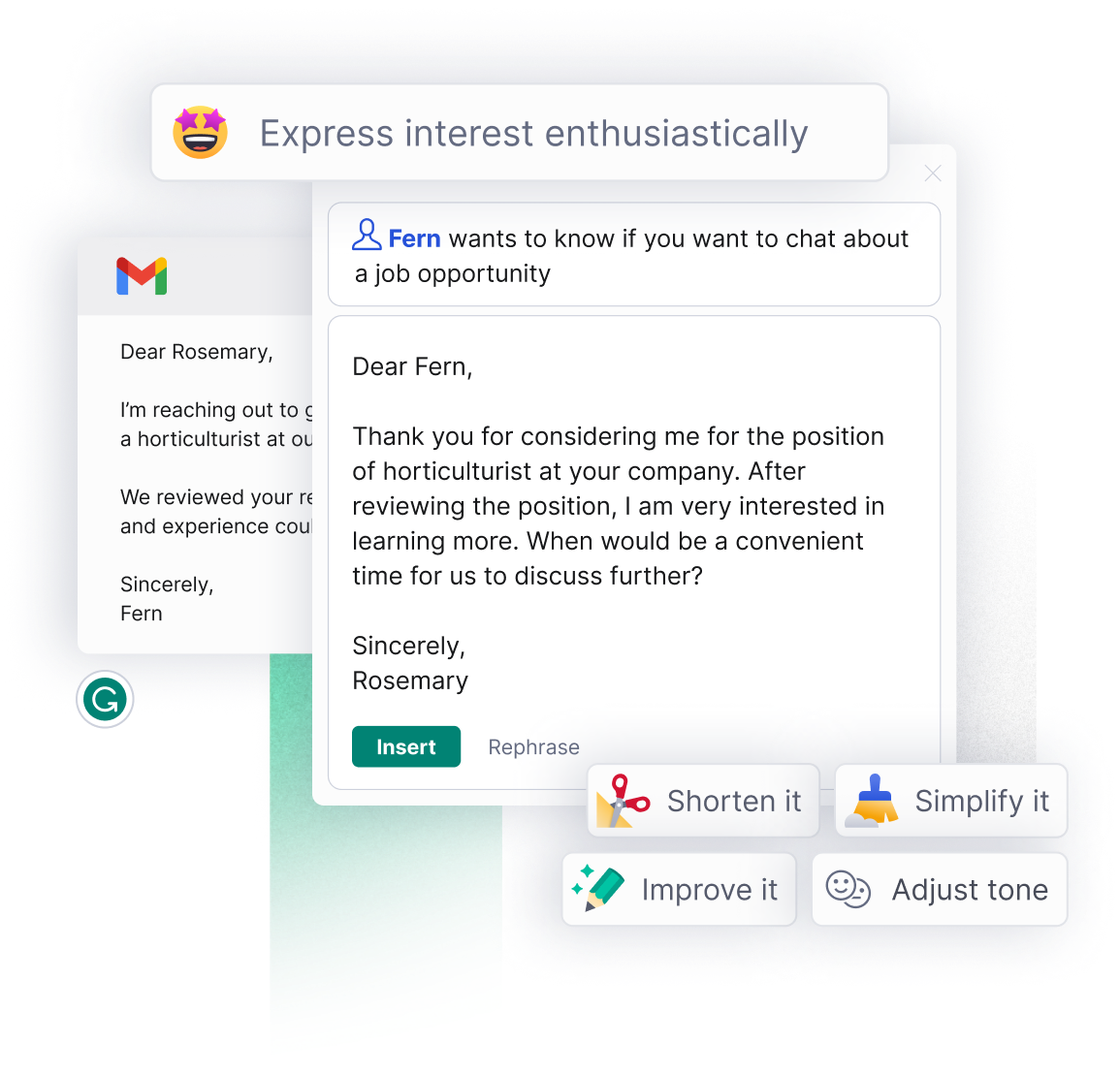 Expedite your email replies

Inbox zero is no longer only a dream when you can get emails summarized and respond quickly to them using context-specific prompts.

Plans to Power Your Assistant

To use Grammarly's generative AI writing features, enter prompts to generate text on-demand. With a Grammarly plan, you get a monthly allowance of prompts to help you write, plus suggestions for improved, effective communication.

For Individuals
Free

Essentials to start writing with AI assistance

100 prompts / month

For Individuals
Premium

Robust AI assistance with advanced writing suggestions

1000 prompts / month

Grammarly Business
Teams

Ideal for small businesses and individual teams

2000 prompts / user / month

Grammarly Business
Enterprise

All-in-one AI for entire organizations

Unlimited prompts / user / month

"Depending on how bad your writer's block is, this could shave days or even weeks off a particular project and allow you to meet deadlines."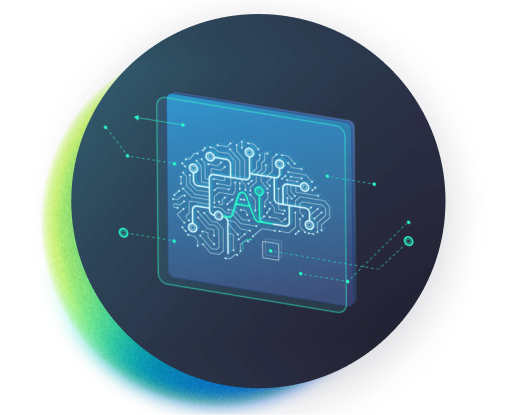 AI to Augment Human Potential

For over fourteen years, we've harnessed advanced technology to help people become better communicators. Our approach to generative AI continues to put people's goals first. We combine expert human knowledge with technical power to design AI that is augmented—not artificial.


Our Principles of AI Development

We are guided by the belief that technology should serve people and society, not the other way around. Learn about our pillars of responsible product development and the design principles we uphold to ensure our AI matches our values.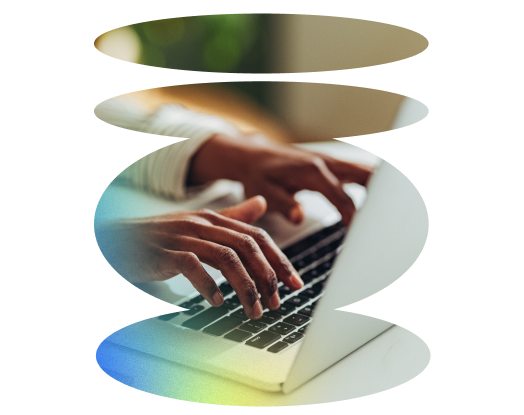 Visit our
Trust Center
to explore the measures we take to protect your information, backed by globally recognized compliance standards.
Frequently Asked Questions

Who can use Grammarly's generative AI features?

If you have a Grammarly account in any country, you have access to Grammarly's generative AI assistance. Grammarly Business and Grammarly for Education accounts have access to Grammarly's generative AI features, unless turned off by your account administrator.

Where can I use Grammarly's generative AI features?

Grammarly's generative AI assistance is available in the following product offerings and platforms: Grammarly for Windows, Grammarly for Mac, Grammarly for Chrome, Grammarly for Edge, and the Grammarly Editor. You'll be able to use our generative writing capabilities in Gmail, Google Docs, Microsoft Word, LinkedIn, and Medium. Grammarly's generative AI features will become available for more applications and websites over time.

I'm an administrator for my team, organization, or institution. What kind of controls are available for Grammarly's generative AI features?

Grammarly takes transparency and customer control seriously. Administrators can decide whether or not they want their team or learning institution to take advantage of Grammarly's generative AI capabilities. Grammarly's generative AI is turned on by default for Grammarly Business customers. For Grammarly for Education customers, Grammarly's generative AI is turned off by default. To manage these settings, go to your account to activate or deactivate Grammarly's generative AI features at any time for your organization.

How does Grammarly use my data?

Grammarly's

enterprise-grade attestations and certifications

and

user-first approach to security and privacy

reflect our practices and policies to keep customers' data safe and secure.

Grammarly's product offerings access text only when you have the product activated. Grammarly never sells customer data and never provides information to third parties to help them advertise their products to you. Rather, Grammarly makes money when people subscribe to our paid offerings.

Any information used to power Grammarly's generative AI features, such as prompt type, prompt text, and the context in which it's used, will be shared with our partners for the sole purpose of providing you with the Grammarly experience. We do not allow any partners or third parties to use your data for training their models or improving their products.

In addition, Grammarly takes extreme care to isolate each customer's data. Any writing that an individual or organization reviews with Grammarly will never appear in another customer's writing suggestions.
You'll Be Amazed at What You Can Do

Ready to experience a new generation in writing? To start using Grammarly's generative AI features, sign up or sign in to Grammarly—or get access for your team.