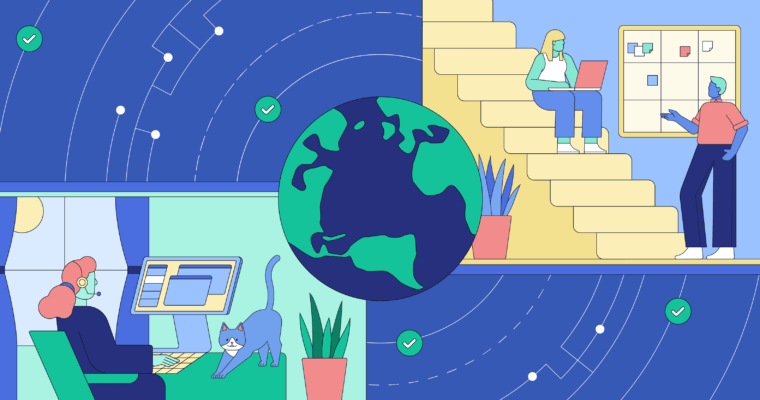 This post was updated on June 7, 2023, to reflect Grammarly's COVID-19 vaccination policy.
At Grammarly, we are building a product that facilitates communication and connection across a global community. I'm excited to share an important step in our journey, one that we believe will enable us to move and innovate faster to accelerate the future of communication worldwide. Going forward, Grammarly will embrace a balanced working model we're calling a "remote-first hybrid."
This decision is another step forward on our decade-plus journey of helping people communicate and connect. Since our beginning, in-person interactions have aided our collaboration and resulting innovation. At the start of the pandemic, we began working fully remotely for the health and safety of our team and communities. Overnight, we had to adapt to new ways of working—and communicating. 
As we've learned and evolved through this experience, our new collaboration methods have become central to how we operate. Our shift to more asynchronous written communication has created many opportunities to use—and improve—our product while facilitating better internal documentation and transparency. We have been able to empathize even more deeply with our users and with people everywhere experiencing new communication challenges and needs. We see an exciting future ahead that blends the power of digital communication with that of in-person connection. That's why we are building our own workplace to welcome and resemble this future.
Introducing our remote-first hybrid model
What do we mean by "remote-first"? Going forward, Grammarly team members can work primarily from home. We recognize the many advantages of remote work, like commute savings and more focus time. We also believe that the most effective work happens when all Grammarlians operate in the same mode, as we have while all working remotely since last March. By "remote-first," we mean that our modes of collaboration will assume every team member is remote. We believe this will help us build an equitable workplace that ensures transparency and equal opportunity for each Grammarlian to learn, grow, and have the highest impact. 
What do we mean by "hybrid"? We continue to believe that in-person interaction helps us build trusting relationships and a welcoming, supportive culture that fosters innovation. That's why our new working model includes essential time for face-to-face collaboration among teams each quarter—such as for strategic planning, project kick-offs, brainstorms, and retrospectives. It also integrates a smooth flow of real-time communication by having each team's members operate within three time zones of one another, to facilitate at least six hours of overlap each day. 
This remote-first hybrid model has also led us to reimagine our office spaces as "hubs"—places for our team to gather, connect, and work closely together. Our team-based meetups will take place at one of our hubs, which are located in Kyiv, New York, San Francisco, and Vancouver. We plan to begin these meetups at our hubs in early 2022. As soon as we can do so safely, Grammarlians can also work from our hubs anytime year-round if they prefer. 
We believe this balanced approach gives our team members the best of both worlds: plenty of focus time as well as in-person collaboration that fosters trust, unlocks creativity, and accelerates innovation.
Building for—and as—users
We know that communication is both vitally important and astonishingly complex. Working remotely has enhanced the thought we put into our own communication as Grammarlians, and the remote-first hybrid model will help us maintain this focus. Our working model will keep us in tune with our users so we can meet the communication needs of people interacting across platforms, professions, and cultures around the world. 
We're eager to see the product innovations our new working model sparks at each stage of the communication journey. One example of this is communication tone, which can be very difficult to refine without body language or vocal cues. Working remotely has brought new context for our tone detector and tone suggestions. We have seen how important it is to facilitate positive human connections through intelligent digital communication support. 
Supporting and growing our global team
Beyond aligning our working model with the future of communication and work, we've always focused on setting our team members up for success and supporting them both personally and professionally. Every Grammarlian brings something unique to our team, and we strive to continue building an inclusive culture that fosters everyone's growth. Our new remote-first hybrid model supports these principles.
We also see incredible opportunities to continue growing our team, and we're thrilled by the potential to bring aboard talented people who live further away from our hubs. Collaborating with team members from different places will bring fresh perspectives and ideas to the table and will help us to diversify our workforce in new ways. This will benefit Grammarlians and Grammarly—and ultimately, people using our writing assistant worldwide. 
Join us!
Shape the way millions of people communicate
Looking ahead
What has not changed are our EAGER values: ethical, adaptable, gritty, empathetic, and remarkable. We live these deliberately in everything we do—from product development to team interactions to company operations—and they drive how we think about the future of work at Grammarly. Our new remote-first hybrid model is tailor-made for a team that holds these values closely and lives them out day to day. 
As with everything we do, we're entering this new stage of our company life by being deliberate and intentional about our choices. We don't have all the answers, and we know that our new model will continue to evolve as we learn. We're ready for it. Our focus remains on achieving our vision of a comprehensive communication assistant that helps individuals and businesses worldwide reach their goals. 
I'm incredibly excited about what this means for our users, our product, our team, and our mission to improve lives by improving communication. If you'd like to join us on this journey, please check out our open roles to learn more and apply.
As of June 7, 2023, Grammarly is sunsetting its vaccination policy that requires team members in North America who meet for in-person time and any team members visiting a North American hub to be vaccinated against COVID-19 and provide proof of vaccination.
All team members meeting in person for official Grammarly business or working from a hub location are strongly encouraged to be vaccinated against COVID-19. Onsite testing is not required, but Grammarly will continue to have a supply of antigen tests and masks available at the hubs. Safety remains a priority when collaborating, so Grammarly will continue to monitor CDC guidelines and update requirements by location as needed.
On September 20, 2021, Grammarly implemented a COVID-19 vaccination policy. 
Getting vaccinated is one of the most effective ways to keep ourselves and others healthy. While there is much that remains outside our control, ensuring that team members are vaccinated helps reduce the risk for our colleagues, families, and communities. We strongly encourage team members globally to be vaccinated against COVID-19. 
Our policy requires team members in North America who meet for in-person collaboration or work from a Grammarly hub to be vaccinated against COVID-19. Team members in Ukraine will be required to be vaccinated or produce a daily negative COVID-19 test administered at the Kyiv hub in order to work from the hub or attend in-person meetings. 
In 2022, when we expect team members to begin meeting regularly at Grammarly's hubs, all team members visiting hub locations in North America or traveling internationally for Grammarly business must be vaccinated or have received a reasonable accommodation to this policy from Grammarly's People team under applicable law. 
We will continue to monitor conditions and medical professionals' recommendations in each of our locations and update our policies accordingly.