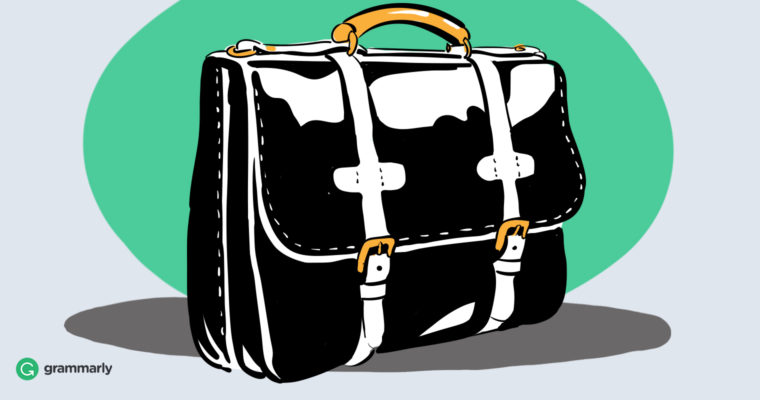 Your dream job is out there.
You can and will find it soon. How do we know this? Because you are driven, focused and have come to the right place for job-seeking advice. Grammarly is here to help.
Don't be mistaken. Finding an ideal career path isn't easy. Job interviews are tough. Plus, figuring out your perfect fit can be challenging. All of this is what makes the job-search process something most people dread.
Not you, though.
The necessary motivation, inspiration and practical tips on how to best position yourself to be successful and reach your long-term goals can be found here.
Grammarly's blog has made it a priority to offer our readers actionable insights on how to approach a job search. Below you'll find seven recent posts that cover the fundamental aspects of finding your ideal place of employment.
1

Organization is essential in beginning any job hunt.

Pro tip: Let technology be your friend. Spending endless hours searching is fine, even encouraged, but don't be shy about using job sites to populate your inbox with relevant opportunities.
Now that you have an idea of what you're looking for, you can start digging into job boards. Many will send you email alerts with new positions that match your skills.
Source:
How to Get Organized During Your Job Search: 6 Helpful Tips
2

Your LinkedIn profile is becoming just as important as your resume.

Pro tip: Most job seekers overlook the value of a profile summary on LinkedIn. Use it wisely to add deeper context to your work experience.
The top of your LinkedIn profile is an opportunity to summarize what you're about—to make an impression beyond the array of jobs you've held. You might try thinking of it as an opportunity to answer the question "What makes me an outstanding candidate for my next career move?"
Source:
We Studied 750 Top LinkedIn Profiles. Here's How to Write Yours Better.
3

Resumes, cover letters, and email correspondence will be the difference-maker in your dream-job pursuits.

Pro tip: In most cases, how and what you write is often the first interaction you'll have with future employers. Make sure you spend extra time crafting your personal copy before applying for a new job.
In today's competitive job market, how you communicate with potential employers can make your skills stand out. Making sure you effectively express yourself, accurately represent your abilities, and stay present throughout the process is what makes the difference in ultimately receiving a job offer.
Source:
Red Flags to Avoid During Your Job Search in 2017
4

Once you've landed a job interview, what you say and how you say it will further demonstrate your abilities to perform the tasks required by a potential new company.

Pro tip: Don't show up to an interview without any preparation. Thinking your way through potential interview questions ahead of time will give you comfort when having to talk about important topics like work experience and expected salary.
Taking the time to prepare can mean the difference between walking away from an interview with a sinking feeling and landing the sweet gig you've been hoping for.
Source:
10 Things You Should Avoid Saying in a Job Interview
5

The way you frame your skills is critical in the job-search process.

Pro tip: Demonstrate your enthusiasm for the position and explain why your experience aligns with the responsibilities that are needed by the company.
Remember that everybody starts somewhere, and hiring managers interview inexperienced candidates all the time. When you're still growing in your career, there's one positive quality you can emphasize to help you win over a potential employer—enthusiasm for learning. Show the employer that not only are you able to learn, but you're excited by the possibilities.
Source:
This Is How to Put a Positive Spin on Weaknesses in a Job Interview
6

Your professional-self and personal-self should be very much aligned during a job search.

Pro tip: Be cognizant of what you've posted on social media and how you present yourself in public forums, especially if your social-media activity is tied directly to the line of work you seek.
According to a CareerBuilder.com survey, 60 percent of employers research job candidates on social media, and over half are reluctant to hire candidates with no online presence. They're mainly looking for professionalism, whether you're a fit for the company, and proof of your qualifications. If your social media profiles show you in that light, you're golden.
Source:
9 Things to Avoid on Social Media While Looking for a New Job
7. You've done everything correctly in the job search and now an offer is in your hands. What happens next?
Pro tip: Research the company you're looking to join. Remember, you're hiring them, too, in a sense. Sites like Glassdoor can show a glimpse into a company's culture by offering candid reviews from current and former employees.
The important part when researching a company is to take into account themes you uncover from a variety of employees, and looking for reviews and details related to what's important to you and your life in and out of work. What's a bad review to one person may not be a bad review to someone else, so it depends on what's most important to you.
Source:
The Ultimate Guide to Analyzing a Company's Glassdoor Page