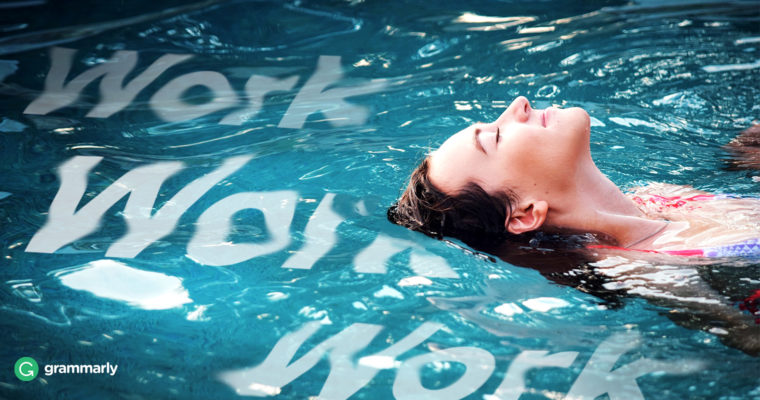 Like many of us, I've been a victim of working whilst being on holiday. As someone who works for a handful of startups and for myself, the pressure of not being connected or involved was always front of mind as I headed off to the sun.
Our modern society keeps us connected to the world of social media, apps, email, and cloud services. On average, we commence 150 mobile sessions on our smartphones every single day. Another study highlights that this can consist of over 2,500 touches. Staying in the loop has become a natural human habit, and we weave it into our vacation routines. Many people jump on emails, written work, calls, and even meetings when they're supposed to be soaking up the sun on vacation. For many of us, work takes up one-third to one-half of every day.
Sounds obvious, but vacations boost our mood. Everything from daily stress to our risk for developing heart problems decreases. The American Medical Association's research showed that, for men, taking a yearly vacation decreased the likelihood of heart disease by 32 percent.
The same resonates for productivity. Seventy-seven percent of HR professionals believe that your productivity and results improve after a vacation.
We've put together a few suggestions for avoiding work on vacation, but also addressing the planned vacation, so your calendar is totally free in advance:
1

Work like a machine

Working on holiday isn't ideal. Making sure you are prepared is important if you hope to avoid even a glimpse of work during the vacation.

Making sure you plan ahead will save you a lot of efforts when you are on holiday. Doing an extra hour or two of work each night the week before your vacation will pay off. Putting in extra hours now will allow you to zone out of work by leaving all of your work energy at the office.
2

Create an Out-of-Office Reply

A well-constructed out-of-office email can be a very effective way to reduce any incoming workload while you're on vacation. Out of office replies alert your colleagues and contacts that there will be a delay in response.

To reduce the chance of any annoying messages, meeting requests, or even calls while you're on vacation, you'll need to make sure your OOO message points people in the right direction.

Before you jet off, spend some time creating a draft OOO message.

Here are a few things to consider as you begin to craft your auto responses:
Inform them with websites, links, statistics.
Re-direct them with contacts, email addresses, or phone numbers.
Educate them with attachments, websites, and articles.
Entertain then with a snappy bit of comedy about where you are.
Pass the draft over to one of your colleagues or even your manager to double check that you are directing people to the best resources. It's easy to do, and it can free you from having to check email on your vacation.
3

Prepare Your Internal Team

For your co-workers, you heading off for a few days (or even weeks) could present a logistical nightmare. All of the knowledge you hold travels with you. Capturing that knowledge where your teammates can access it makes life easier for everyone.

Using services like Evernote, Dropbox, and Google Drive to store essential information in clear, well-outlined folders will help pass the baton to those still in the office.

Evernote is a great example of a service for capturing notes, images, and documents. You can create a free account here. Start creating a mega note with all of the useful information and data that your internal team will need while you're gone. Send them the note before you leave and ensure they know what's inside.

The same can be done using a Dropbox account to help keep all of the cogs turning.
4

Clear Your Mind

Zenning out on holiday is one of the biggest challenges for many people. According to data provided travel company Expedia, only 53 percent of workers come back feeling rested after their holiday. This is a huge problem for the world of work.

If employees aren't getting the rest they need, company productivity and, more importantly, employees' mental health, will suffer.

Meditation is growing in popularity thanks to its cognitive benefits. Meditation boosts memory and reduces stress and anxiety. A 2012 study found that, over an eight-week period, meditation reduced stress in candidates who meditated after they worked on tests or exercises.

Many people try to avoid personal development activities while on vacation because practicing them can feel like work in itself. However, meditation is something you should consider. A five to ten minute daily meditation during your vacation can help to clear your mind of stress, negative feelings, and even anxiety about work issues.

Spending time on yourself is so important. If you are still skeptical, try the following for a full week and see how you get on.

How to get started:
Download a meditation app like Headspace, Calm, or Mindfulness
Try a five-minute meditation for a full week, in a quiet environment
Find a meditation buddy to work with
The benefits of meditation are continuing to grow. This evidence-based resource provides a strong list of cognitive, stress-associated, and health benefits to meditating.
5

No Wi-Fi zones

Exploring rural areas on your vacation can be a little unnerving. Your knowledge of the area is often limited, and you're likely to face language barriers. To make matters worse, you may encounter Wi-Fi dead zones.

Scary, right?! Not necessarily. Getting out of the reach of technology can also be very effective at helping you to escape work. If you want to zen out fully, there's no better excuse than being in an area with no access to Wi-Fi. Rather than trying to figure out phone contracts and ways to stay connected, why not just disconnect? If it's free to call emergency services wherever you're headed, then there may be no need for Wi-Fi.

Whether or not you successfully avoid work on vacation is totally up to you. If you can remove digital temptations and mentally remove yourself from the work zone, you're more likely to return to work refreshed and ready to tackle any challenge.
---
About the author:Francesco D'Alessio runs a YouTube channel with over 8,000 subscribers that features weekly videos about productivity apps and tools. He works remotely in the South West of the UK for a handful of technology startups.