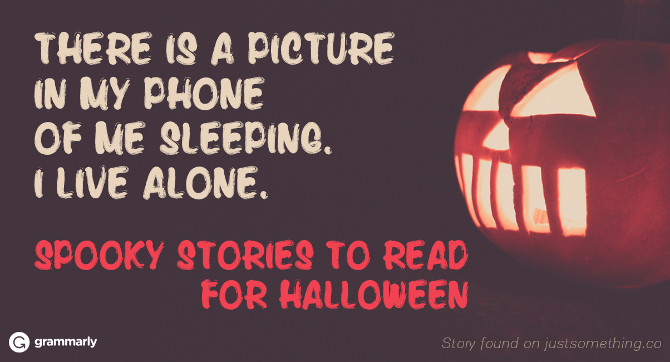 All Hallow's Eve is drawing near, which makes this the perfect time of year to cuddle up with some delightfully creepy classics. Finish up that jack-o'-lantern you're carving, dim the lights, and settle in with these seriously spooky stories:
1

"The Wife's Story" by Ursula Le Guin

In "The Wife's Story," collected in The Compass Rose, the narrator recounts a horrific incident that occurred one night beneath a full moon. You may have your suspicions about the terrible transformation at the heart of this story, but things aren't quite what they seem.
2

"The Yellow Wallpaper" by Charlotte Perkins Gilman

There are no vampires or ghosts in "The Yellow Wallpaper." Instead, this story's creep-factor comes from a different kind of horror. Locked in the nursery of a shabby old house and forbidden from doing anything to compromise her "health," the narrator of this story slowly descends into madness and develops a frightening obsession with the ugly yellow wallpaper adorning the walls of her claustrophobic room.
3

"The Landlady" by Roald Dahl

If you've ever noticed that Charlie and the Chocolate Factory has some creepy moments, you might not be surprised to hear that Roald Dahl has written some pretty scary stuff. "The Landlady" takes the unpleasantness of apartment hunting to a whole new level.
4

"A Rose for Emily" by William Faulkner

"A Rose for Emily" is a story about mysteries and secrets. Who is the narrator? What has the reclusive Emily been up to inside her house for all these years? What will the town find inside now that she's gone? The story raises more questions than it answers, but the mysteries it does reveal will give you the chills.
5

"The Upper Berth" by Francis Marion Crawford

Is there anything scarier than a monster under the bed? Read "The Upper Berth" before you answer that question, because sometimes monsters like to change up their hiding places.
6

"The Black Cat" by Edgar Allan Poe

And, of course, this list wouldn't be complete without an entry by Edgar Allan Poe. "The Black Cat" has it all: murder, madness, and a possibly demonic cat.

What are you reading this Halloween? Tell us below in the comments or via Facebook and Twitter feeds.